Xaviera Hollander is "back in business"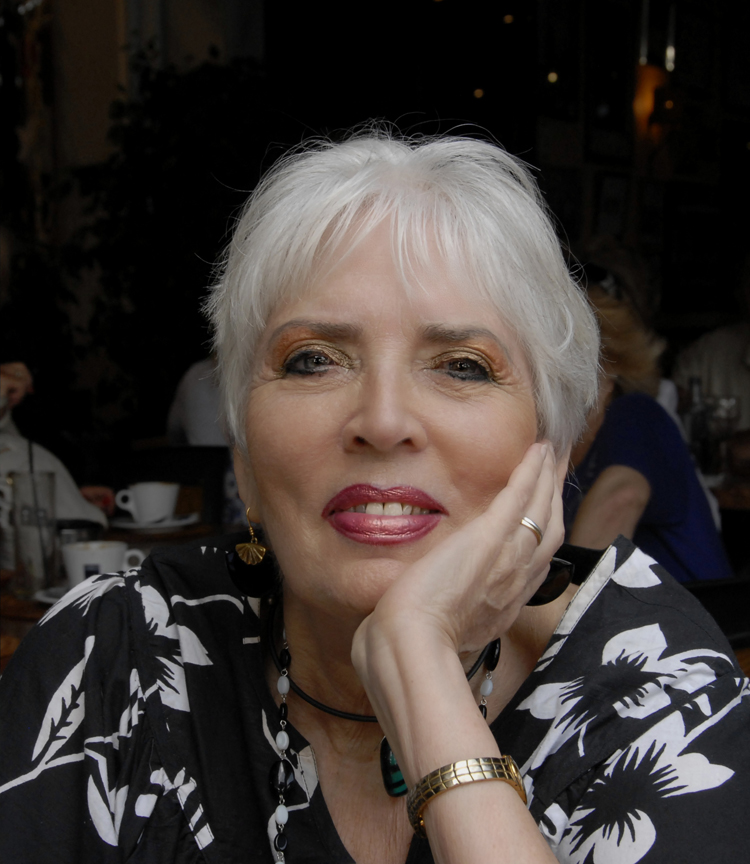 Niet in haar oude beroep maar in het 'lezingen circuit'. Hier laat de voormalige Happy Hooker zien dat ze op vele vlakken niet alleen goed gemutst is, maar ook bijzonder goed van de tongriem gesneden. Met andere woorden Xaviera heeft alle reden om nog steeds "Happy" te zijn. Met haar energieke voordrachten vol humor, levenslust en wijsheid brengt Xaviera die 'happiness' op aanstekelijke wijze over op haar publiek.
INDRUKWEKKENDE VERHALEN I -
Xaviera kan putten uit een arsenaal van indrukwekkende anekdotes uit haar eigen leven. Op een laconieke manier vertelt zij over verschillende mensen en hun belevenissen onder haar dak - of was het haar rok?! Zij hoeft haar verhalen niet sappiger te maken want de realiteit is pittig genoeg, vaak humoristisch en soms aangrijpend en triest. Open vertelt Xaviera over haar New Yorkse periode als Happy Hooker, waar ze te maken kreeg met de bekrompen Amerikaanse regelgeving omtrent seksualiteit. Als gevolg hiervan belandde zij een paar keer met haar " meisjes" in de gevangenis. Xaviera was vijfendertig jaar lang verbonden aan het vermaarde Penthouse Magazine waar ze als sexuologe vragen beantwoordde in haar wereldberoemde rubriek:' CALL ME MADAM.'
Xaviera ontroert haar publiek met onbekende verhalen, zoals die over haar jeugd in Indonesië tijdens de horrors van de Jappenkampen met haar ouders. Over de bijzonder symbiotische relatie die ze met haar moeder had. Hierover schreef zij wat ze zelf haar beste boek vond: KIND AF.
Ze vermaakt haar publiek met pikante anekdotes over haar classy, soms naughty bed & breakfast in Amsterdam: Xaviera's Happy House.
Ouder worden en seksualiteit. WHAT YOU SEE IS WHAT YOU GET!
Op een positieve, interactieve manier beschrijft Xaviera als geen ander hoe het is om ouder te worden en te blijven genieten van een goed seksleven. Xaviera beantwoordt prangende vragen over ontrouw, jaloezie en genot, relaties en de verschillende seksuele voorkeuren van de mens in het algemeen. Naar gelang de lezing vordert leert het publiek niet alleen Xaviera maar ook zichzelf beter kennen. Een lezing van Xaviera Hollander is een Openbaring. Ze is ook eerlijk over haar problemen met haar gewicht en hoe ze daar mee omgaat.
Een bekende uitspraak van Xaviera Hollander is: "Ik lieg nooit over mijn leeftijd, alles wat je ziet aan mij is echt, niks gefixed of opgetrokken, hooguit lieg ik soms een beetje over mijn ware gewicht. What you see is what you get. Zelfs mijn haar is niet geverfd..."
Over welk onderwerp Xaviera ook spreekt: met haar humor, sprankelende energie en levenswijsheid maakt zij elke lezing tot een ware Happening die een onuitwisbare indruk achterlaat.
LEZING (60 min.) II - : Als schrijfster van o.a. de Happy Hooker en Kind Af
Xaviera: Still Happy
Over haar jeugd in Indonesie en de intense doch soms moeizame relatie met haar moeder. Gebaseerd op haar boek Kind Af.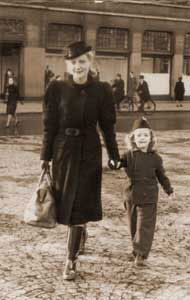 Deze lezing kan plaats vinden in combinatie met een paar scenes uit haar documentaire "XAVIERA, portrait of a sexual revolutionary.' ( met video clips over de kampen in Nederlands Indië, Xaviera's Jeugd in Amsterdam en interviews met onbekenden en bekenden waaronder collega/sexpert Annie Sprinkle, die Xaviera als Sex Goddess beschouwt.)
Dit boek zou ten tijde van Oprah Winfrey's TV shows een perfect werk over moeder/dochter relaties geweest zijn. In Kind Af komen aangrijpende verhalen voor over de onmenselijke wreedheid van een van Japan's meest sadistische beulen op Java: Sonei die haar moeder haast doodgemarteld heeft, terwijl Xaviera als klein kind dit allemaal op afstand heeft kunnen horen. Ook beschrijft Xaviera op adembenemende manier het laatste uur op deze aarde van haar moeder, vlak voor ze stierf op 86 jarige leeftijd. Volgens de verpleegster die er bij aanwezig was, was dit een van de meest harmonieuze afscheids taferelen die zij zelf ooit had meegemaakt met een van haar patienten.
Verder beschrijft Xaviera in een paar hoofdstukken hoe haar ouders verliefd op elkaar werden en pas bij hoofdstuk 5, ( toen haar toenmalige vriendinnetje Dia haar er op attendeerde dat Xaviera zelf nog steeds niet was geboren in haar eigen boek), schreef ze hoe zij op 15 juni 1943 ter wereld kwam in Soerabaja, Java. Binnen 3 weken na haar geboorte werd zij op brute wijze voor ettelijke jaren van haar vader gescheiden en werd ze met haar moeder in een vrouwenkamp geinterneerd. Xaviera kan op aangrijpende wijze voorlezen uit deze echte autobiografie, waarvan ze vindt dat dit veel meer een blik geeft op de rest van haar leven dan de Happy Hooker, dat slechts 2 jaar van haar tumultueuze bestaan weergeeft, als een tip van een ijsberg zo te zeggen.
Na wat voorgelezen te hebben uit KIND AF wordt het tijd om ter afwisseling wat vrolijker stukken te berde te brengen uit de Happy Hooker, o.a. waarom mannen naar een prostituee gaan en...What's a girl like you doing in a business like this? Wat voor soort klanten er in Xaviera's etablissement kwamen opdagen en het soort vragen dat deze mannen regelmatig stelden aan prostituees als Xaviera en haar " girls,"
Hierna (als er nog tijd over is) een Vraag en Antwoord sessie.
Lezing III - XAVIERA: THE HAPPENING
Dit wordt een humoristisch vragenuurtje waarbij Xaviera over sex kan praten alsof ze een dure japon koopt bij de Bijenkorf. Banaliteit komt bij la Hollander nooit voor.
Hierbij een vragensteller, liefst een man die niet al te preuts is, maar ook niet te brutaal, die het vraaggesprek met haar voert.
Hier zijn wat vragen die er gesteld kunnen worden bijvoorbeeld:
Wanneer besloot je madam te worden?
Waarom wilde je dat?
Wat was je mooiste/ meest exotische ervaring
Wat was je meest erotische ervaring
Ben je wel eens verliefd geworden op een klant
Wat vonden je ouders van je vak?
Hoe was het na de happy hooker om weer een op een relaties aan te gaan.
Was het moeilijk voor je om weer trouw te zijn aan een partner
How about iets over trouw zijn in een relatie.
Wanneer is iemand ontrouw?
Jaloezie.. ben je een jaloers type. en hoe reageer je dan als je partner staat te flirten met een ander??
Kan je ons iets leren over de erogene zones van de man/vrouw (dit kan leuk worden met een vlotte kerel uit de zaal graag die uit de boven kleren moet of anders degene die me interviewt)
Wat is de meest erogene zone
Na de erogene zones kan gevraagd worden: hoe meet je de maat van een penis dat vereist een geestige publieks participatie. Does size matter?
Je zei wel eens mensen die zichzelf steeds opnieuw moeten ontdekken "reinvent themselves".
Wat bedoel je daarmee?
Wat vind je van de Nederlandse man in bed?
Polyamoureuze relaties?
Welke adviezen zou je echtparen geven om een gelukkig langjarig huwelijk te houden?
The Happy Hooker's Guide to sex
Laten we het hebben over mijn kleine rode boekje met 69 tips on how To become a better lover.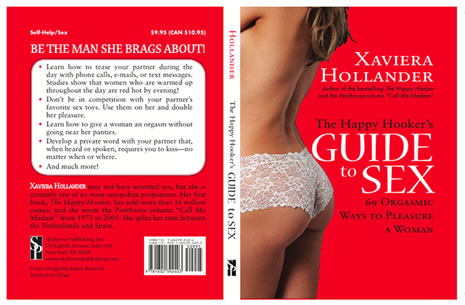 Niet vergeten the brain clit, heart clit en dan pas de pussy clit. Welke zijn de meest voorkomende vragen die u als sexuologe voor Penthouse .... over 35 jaar hebt gelezen?
U bent nu al zelf 7 jaar getrouwd. Wat is uw mening over een huwelijk?
Is Uw man ook zo speels als u of gewoon een goede trouwe echtgenoot?
wat is de grootste aantrekkingskracht van uw partner?
Dingen die Xaviera Hollander nodig heeft voor een lezing:
makkelijke niet te lage stoel liefst met comfortabel kussen.
klein tafeltje voor water en boeken
lampje om bij te lezen (goed licht)
een leuke en sexy hand microfoon waarmee zij kan rondlopen.
zaal microfoon
tafel waar haar boeken kunnen staan i.v.m. eventuele verkoop
voor lezing 2 is er ook nog nodig een projectiescherm
LEZING IV - : SHOW AND TELL XAVIERA & CORA EMENS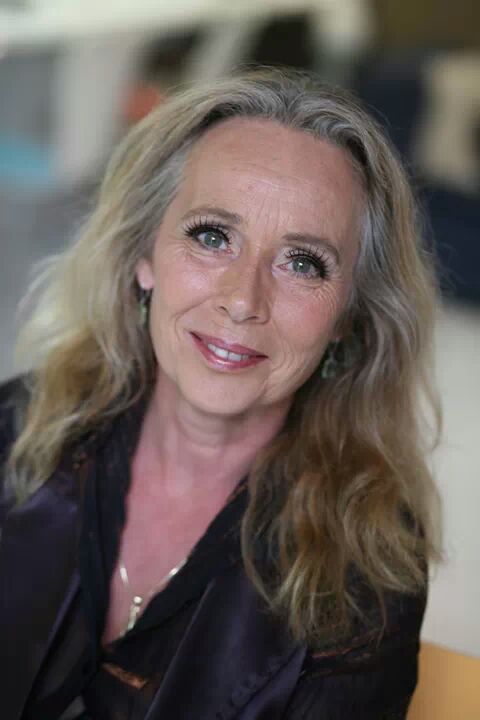 EXPLICIET EN HUMORISTISCH – met andere woorden TO THE POINT . Cora & Xaviera's Sex Lessons (explicit) SHOW AND TELL (Workshop samen met sekscoach Cora Emens, onder andere bekend van de spraakmakende TV programma's "Beter in Bed" en "Spuiten&Slikken", vele bladen en haar colum over sekscoaching in de Viva in 2012/2013], waarin alle tips en tricks over seks besproken worden. Van onschuldig en sensueel tot hard en expliciet).
Xaviera en Cora stellen elkaar de meest voorkomende vragen die zij hebben gekregen in hun loopbaan en beantwoorden die op humoristische wijze en met anekdotes uit hun persoonlijke en professionele leven. Uiteraard gaan zij ook in op vragen uit het publiek. Een en ander wordt visueel gemaakt met een pussy puppet en een dildo. Ook worden er oefeningen gedaan met het publiek, denk aan ademhaling en bekkenbodemspieroefeningen.
Drie doelgroepen:
Onderwerpen onder andere:
Vrouwen. Hoe blijf je sappig, sexy en aantrekkelijk? Hoe bereik je een of meerdere orgasmes? De geheimen van een goed sexleven? Hoe verwen je een man? Wat mannen het liefste willen? Hoe blijf je de vrouw van hun dromen enz?
Mannen. Hoe word je de ideale minnaar? De geheimen van de vrouwelijke seksualiteit; Hoe krijg je controle over je zaadlozing? Houdt je het lang vol? Wat vrouwen het liefste willen? Hoe verleid je haar? En krijg je wat je wilt in bed enz?
Gemengd.Bovenstaand aangevuld met vragen over: Hoe houd je je relatie spannend en intiem? Hoe houd je je sexleven op gang in een langdurige relatie? Hoe geniet je weer van je seksuele vrijheid als de kinderen het huis uit zijn? Hoe ga je om met seksuele fantasie en pornografie in een relatie? Wat is het verschil tussen mannelijk en vrouwelijke opwinding? Aangevuld met simpele oefeningen over aanraking en intimiteit. En niet te vergeten hoe mannen en vrouwen zich gedragen t.o.v. masturbatie. Mannen preferen meestal de prive sfeer zonder vrouwlief er bij.. Een vrouw vindt het wel opwindend als een man opgewonden raakt als zij zichzelf begint op te geilen met haar eigen hand of behulp van een Tarzan vibrator
Xaviera zoekt een " slachtoffer" uit haar publiek bij wie ze zal aantonen wat nu precies de erogene zones zijn van een man -( en of vrouw)
Ook laat ze het publiek participeren bij het uitvinden wat nu precies de exacte maat van de penis van een man is.
Xaviera vertelt over Penthouse column Call Me Madam die ze 35 jaar lang heeft geschreven zowel voor USA als Nederland . En haalt een paar van de meest voorkomende vragen aan. Zoals onder meer: waarom gaan zo veel mannen nog steeds naar een prostituee toe? Hoe kan een "gewone" vrouw aan hun " kunstjes" tippen? O.a. orale sex tips en hoe mannen een vrouw het beste oraal kunnen bevredigen en vice versa?
FINAL GREAT TALK ABOUT LOVE, INSPIRED BY THE MOROCCAN FASHION DESIGNER AZIZ BEKKAOUI
Sunday afternoon April 21,2013 I was invited by a group of people, to speak about one of my favorite subjects in life: LOVE. This event took place at the studio of AZIZ
He had built, with help of half a dozen friends, a great set full of elegant chairs placed in a demi-circle around a stage and several podia with living statues posing in fiery red long gowns for hours, during the entire afternoon. Clothing racks bedecked with colorful and unusual extravagant outfits, both for men as well as women, were a delight to our eyes. Each guest who arrived, mostly all privately invited friends of mine and the foursome I worked with, was immediately offered to wear one of the many multicolored short kimonos and then were told to roam around the various rooms until the show started at 3 p.m. Meanwhile I was draped in a stunning deep purple long sleeved full length festive dress which gave me the feeling of being the queen bee of the party. That color looked gorgeous on me and Luckily I was wearing matching purple eye shadow and shocking pink lipstick. Drama queen as I can still sometimes be, I loved all this fiddling around with me, like fixing my hair, or touching up the cheeks…
Our speech about LOVE was co-hosted by a charismatic man with a great stage personality, called Hans Flupsen, whose face I had seen on various TV talk shows throughout the years. He was one of the easiest persons to exchange thoughts about love with. http://bit.ly/104LrrA
For years Hans has been a presenter, known from free sounds and the maker of various other radio and/or TV programs. We instantly got along like a house on fire

LOVE HAS MANY GUISES
Biologically, love is a powerful neurological condition, like hunger or thirst, only more permanent. We talk about love being blind or unconditional, in the sense that we have no control over it. But then, that is not so surprising since love is basically chemistry
Philia which they saw as a deep but usually non-sexual intimacy between close friends and family members or as a deep bond forged by soldiers as they fought alongside each other in battle. Ludus describes a more playful affection found in fooling around or flirting and understanding. Agape is a more generalized love, it's not about exclusivity Philautia is self love, which isn't as selfish as it sounds. As Aristotle discovered and as any psychotherapist will tell you, in order to care for others you need to be able to care about yourself. At school I was taught the expression that in life one should above all else, learn to love one self. Last and probably least even, though it causes the most trouble, Eros is about sexual passion and desire. Unless it morphs into Philia and/or Pragma, Eros will burn itself out.
'Love is a passionate commitment'
The answer remains elusive in part because love is not one thing. Love for parents, partners, children, country, neighbor, God and so on all have different qualities. Each has its variants – blind, one-sided, tragic, steadfast, fickle, reciprocated, misguided, and unconditional. At its best, however, all love is a kind a passionate commitment that we nurture and develop, even though it usually arrives in our lives unexpectedly. That's why it is more than just a powerful feeling. Without the commitment, it is mere infatuation. Without the passion, it is mere dedication.
'Love is free yet binds us'
Love's the one thing that can never hurt anyone, although it may cost dearly. The paradox of love is that it is supremely free yet attaches us with bonds stronger than death. It cannot be bought or sold; there is nothing it cannot face; love is life's greatest blessing. These are some of our thoughts about love.
THE OPPOSITE OF LOVE IS NOT HATE BUT…. INDIFFERENCE
Of course I also brought up some funny /emotional anecdotes about my passionate relationship of 12 years with John Drummond, about 20 years ago. He was a highly intelligent and witty, artistic and literate man, but also a cynical macho Scotsman, who had been living in Spain for over 25 years, when we met; so he had acquired a real Spanish temper. We spent most of the time in Marbella, where John's one time kind and brilliant mind turned me on and his strong and passionate lovemaking, kept me in love and lust with him for many years. However King Alcohol started to ruin our relationship and when he was drunk at night, our verbal fights, soon started to look like the script of Who's afraid of Virginia Woolf or the film War of the Roses.
We battled with words but... strangely enough our fights often were followed up by the best sex I ever had. At one point John yelled at me, as I was infuriating him again… " Hey, Honey, do you want to start a fight or a fuck.?" To which, I totally worked up and horny yelled back at him: "A fight first please." Soon after, we were rolling in the grass laughing our heads off and having the wildest sex I ever had by the side of our pool.
Then a few years later, still living under one roof, when our sexual days were almost over, but there was still a very emotional passionate love/hate situation between us, he started to write me incredibly nasty but brilliantly composed hate letters, sometimes starting with: 'You post-menopausal bitch' - that surely did hurt my feelings. When I realized he was depriving me of my ID (my identity) and I started suffering a true writer's block, we really split up.
Many years later, when I was back in Amsterdam, I took some of these nasty epistles to a night of love poetry in the Amsterdam Winston Hotel, where amongst all the poets who were reading their gentle love poetry, I must have shocked the public. I heard a woman in the front row sobbing, while I was reading some of these painful episodes of my past life. Suddenly she yelled out loud: "Please Miss Hollander. Stop! How can you go on reading these hate letters? That's not called LOVE!" To which I swallowed my own tears... (as it was damned painful indeed to read and relive these violent moments) and said:" Madam I am afraid to say, the opposite of love is not hate, but INDIFFERENCE."
CONTACT:
Indien U geinteresseerd bent in een van deze lezingen, of als U zelf een eigen suggestie heeft voor een
lezing op maat of andere events. cq happenings neemt u dan vrijblijvend contact op met Xaviera Hollander
Daar Xaviera diverse talen beheerst, kan een lezing uiteraard zowel in het Engels als in het Nederlands geleverd worden.
tel. 020 -6733934
email: This email address is being protected from spambots. You need JavaScript enabled to view it.