Xaviera Presents: Sholom-Aleichem - Now You're Talking by Saul Reichlin

TICKETS ARE SELLING RAPIDLY... make sure to make your reservation in time!!

The dinner show for Friday Jan 15th is totally sold out, but we are doing another EXTRA dinner show for Sunday January 17th for the price of euro 50 per person. This includes a divine Indonesian meal, the show and two drinks.
Book quickly as there is limited seating left.


A unique one- man dramatisation of the poignant, hilarious, classic stories from the creator of the beloved Fiddler on the Roof. For the festive season, life affirming and timeless, this superb presentation is abundant in the wisdom and humour of the shtetl.

In his celebrated telling of these funny, touching, forever optimistic tales of yesterday, Saul entices us back to what one critic referred to as a 'lost world of poverty, foolishness, misfortune, and the love of life'. Award winning British actor Saul Reichlin's first show, Now You're Talking! totally sold out its London UK Premiere, and has since toured 35 cities in 7 countries, including Off Broadway.
We are sure no-one will want to miss this most special entertainment, one which resonates so strongly within the Jewish community. Saul tells us that one Rabbi actually brought 25 of his congregation to a performance of his first show, said he had not laughed so much in 25 years, and insisted on being photographed with Saul on stage afterwards!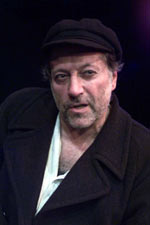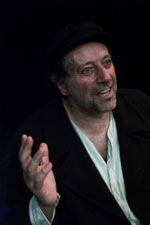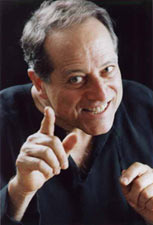 Poignant Humorous Touching
"inspirational... a brilliant and flawless performance... The most exciting Jewish storytelling in the world!" Edinburgh Jewish Telegraph

"To watch Saul Reichlin create dozens of different characters in the detailed oration of ten stories is a visual wonder for both children and adults, and a master class in oral storytelling for actors…"
Show Business New York
"Reichlin is a veritable force of nature ... loving, entertaining ... it is most infectious."
Chris Jones Chicago Tribune june 2004

"Electrifying ... a fabulous talent... world class show... take your entire family..."
Tom Williams

"Reichlin brings Aleichem to blessed life... rich with Yiddish survivor humor and magic realism."
Lawrence Bommer Chicago Reader
Presented for your entertainment
at Xaviera Hollander's cozy Home Theater Caprice:
Calle Pizarra 184, Rocio de Nagueles, Marbella:
* THURSDAY January 14, 9 p.m. Price €25 pp
* FRIDAY January 15, 8:30 p.m. SPECIAL DINNER SHOW Price €50 pp SOLD OUT
Before the show, enjoy a tasty meal prepared by Xaviera's husband and Chef Philip
* SATURDAY January 16, 9 p.m. Price €25 pp
* SUNDAY January 17, 9 p.m. Price €25 pp or €50 EXTRA DINNER SHOW
Before the show, enjoy a tasty meal prepared by Xaviera's husband and Chef Philip

***Two free drinks are included in the price of each show!***

For tickets and direction contact Xaviera at:
Home: 952857575
Mobile: 635011111
Email: This email address is being protected from spambots. You need JavaScript enabled to view it.
Directions to Theatre Caprice

View Theatre Villa Caprice in a larger map
SPECIAL OFFER BED AND BREAKFAST AT THE VILLA CAPRICE

If you are coming from outside Marbella and wish to spend the night
at our villa after the show, we offer one night at our Bed and
Breakfast including the entrance ticket and two drinks for euro
100 per night per person.

If you come for the dinner show the same offer stands and then our
price for the Bed and Breakfast is euro 125 per night per person.