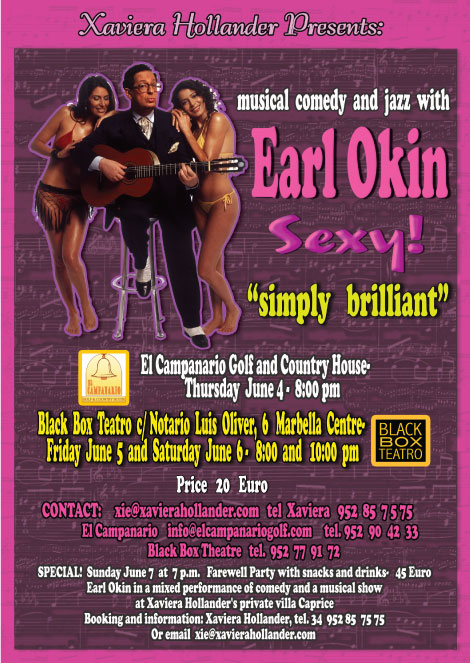 XAVIERA HOLLANDER – WORLD RENOWNED AS 'THE HAPPY HOOKER' PRESENTS HER LATEST THEATRICAL CREATION:
EARL OKIN, MUSICAL GENIUS AND SEX SYMBOL AND DUKE, GEORGE, COLE, HOAGY, TIM AND FRIENDS……
SHOW ONE: EARL OKIN, MUSICAL GENIOUS AND SEX SYMBOL

Songwriter, Jazz and Bossa Nova singer and headline comedy cabaret concert artiste, there is nobody remotely like Earl Okin. He has performed everywhere from the Royal Albert and Royal Festival Halls to The Palladium and Wembley Arena in London, to The Apollo Theatre and Birdland in New York. Earl has worked with everyone from Benny Carter to Paul McCartney and counts among his friends Billy Connolly and Sacha Baron Cohen. Here in Spain, he offers two shows, demonstrating both sides of his talent...

Earl's comedy 'Musical Genius and Sex Symbol' is witty and sophisticated and he has performed more comedy shows at the Edinburgh Festival than anyone else has ever done. He was described by one critic as a cross between Victor Borge and Harry Connick Jr. Truth to tell, Earl's humour is quite unique...there's nobody like him at all...

So come along and find out why he IS an international sex-symbol and musical genius, with lots of surprises along the way

Thursday June 4th – 8pm.
El Campanario
Golf and Country House
Urb. La Campanario;
Ctra Cadiz No 340 km 168
Booking: 952 90 42 33
This email address is being protected from spambots. You need JavaScript enabled to view it.
PRICE Euro 20

Friday June 5th – 8pm
Saturday June 6th - 8pm
Black Box Theatre. Calle Notario Luis Oliver 6, Marbella Centre
Booking: Xaviera 952 857575
Or Black Box Theatre 952 779172
PRICE Euro 20
SHOW TWO: DUKE, GEORGE, COLE, HOAGY, TOM and friends...

Whereas Earl's initial theatrical genius is based on exactly that; Theatre, this production however exudes his others talents; humour, jazz and his performance as a musical and song-writing performer.

In a nutshell, 'Duke, George, Cole, Hoagy, Tom and friends…' will blow the minds of many, as they listen to Earl's renditions of the finest and most loved performers of our time. It is quite plainly an unmissable and eye-opening show.

Earl will explain how some of the best songwriters worked and give at least one example of how NOT to write songs! He is a great musician and showman. It had been a long time, since I witnessed an artist win a crowd's favours in two minutes. This happened at the North Sea Jazz Festival in The Hague. His music? You have to find this out for yourself. He sings with a beautiful voice, perfect for the Brazilian/Jobim type of Bossa Nova songs he does. He plays guitar and piano.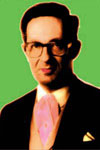 A real treat is his 'voice trumpet': he can make those fantastic sounds that helped make the Mills Brothers famous. Earl's inspiration here is clearly the early Ellington horns. He can do an astonishing Whetsol. But he also did a brief Cootie, Brown and Bigard.

Friday 5th June - 10pm
Saturday 6th June – 10pm
Black Box Theatre – 9527791722
Xaviera – 952 857575
PRICE EURO 20
SURPRISE - - - - -
Sunday June 7 at 7 p.m.
FAREWELL GARDEN PARTY WITH FOOD AND DRINKS AND EARL OKIN doing a mixed show of Comedy and Music at
Xaviera Hollander's private
villa Caprice
184 Calle Pizarra, Rocio de Nagueles
Price per person euro 45
Booking and information 952857575
Email: This email address is being protected from spambots. You need JavaScript enabled to view it.
Now if that is not enough to quench the thirst of those Theatre/thespian and music lovers along the coast, there is yet another treat in store; that being her award winning documentary go to page >>