THE HAPPY HOOKER, PORTRAIT OF A SEXUAL REVOLUTIONARY

With her autobiographic book 'The Happy Hooker' - the story of her life as New York's most famous Madame in 1971, Xaviera Hollander became an instant best selling author. This documentary is a screened explicit rendition of her life as New York's most famous Madame.

Following the war, Xaviera's family moved back to Amsterdam where Xaviera was a lonely only child, always competing with her mother for the love and appreciation of her father. She even became Holland's top secretary and soon relocated to South Africa where she met "Mr. Right" who invited her to come and live with him in New York. There she had a great but underpaid job as the secretary to the Dutch Consul. Once her relationship was over, she continued to work for the Dutch Consul but she started moonlighting as a part time hooker to compensate her meagre salary. It became a full time career which soon put her directly at the centre of a major NYPD crooked cop scandal.
She wrote the book the Happy Hooker with Robin Moore, of 'Green Berets' and 'French Connection' fame. Her book was published in 1971 and became a world wide bestseller overnight. It sold over 14 million copies world wide.
This documentary tells the haunting story of her early life in the concentration camps, her sensational blitz career from call girl to Madame, but most of all it shows how she was persecuted by the American law and became involved in one of America's most famous crime commissions. It also deals with her symbiotic relationship with her mother.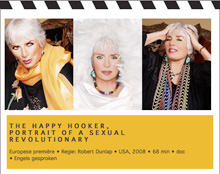 The international publicity and her involvement in the crime commission scandal instantly turned Xaviera into one of the top icons of the sexual revolution in the world. After 'The Happy Hooker,' she wrote another 16 autobiographic books and sex guides. She has been in a monogamous married situation with her Dutch man Philip for the last 3 years.

Her book, "The Happy Hooker," is being turned into a musical!
Xaviera is always reinventing herself!
SPAIN PERFORMANCES
Black Box Theatre
June 9th at 8pm and 10 pm
PRICE EURO 15
Black Box Theatre – 9527791722
Tel Xaviera – 952 857575
email: This email address is being protected from spambots. You need JavaScript enabled to view it.
SURPRISE - - - - -
Sunday June 7 at 7 p.m.
FAREWELL GARDEN PARTY WITH FOOD AND DRINKS AND EARL OKIN doing a mixed show of Comedy and Music at
Xaviera Hollander's private
villa Caprice
184 Calle Pizarra, Rocio de Nagueles
Price per person euro 45
Booking and information 952857575 or
Email: This email address is being protected from spambots. You need JavaScript enabled to view it.
XAVIERA'S WEBSITE FOR HER NEXT PRODUCTION HAS ALSO WON THE PRIZE OF THE WEEK ON www.galeriamarbella.com
ENJOY!
Reviews
'Happy Hooker' documentary not what one might expect:
April 30, 2009 www.buffaloniagarafilmfestival.com Entertainment, Movies

As far as artistic inspiration go, Xaviera Hollander presents about as broad and vibrant a muse as can be had.The legendary call girl-turned-author could fill 50 films with her X-rated exploits alone, but documentarian Robert Dunlap chose not to focus solely on that part of her life.
That's not to say that "Portrait of a Sexual Revolutionary" lacks for ribaldry, but as far as films about the author of the largely autobiographical best-seller "The Happy Hooker" go, this is about as sterile as the subject matter could be treated.

With Hollander narrating the 68-minute film, which will be shown during the Buffalo Niagara Film Festival, the documentary goes all the way back to her infancy, which was spent in a Japanese concentration camp in southeast Asia (she and her family are of Jewish heritage).
After the war, the family returned to Holland, where she grew up (kinda) normally. She claimed the "Miss Tick" prize as Holland's best secretary, then made her way to New York City, where she took a secretarial job that failed to offer much fulfillment.

Instead, as the title of her first book suggests, she took an unorthodox route to happiness. The film uses commentary from several of today's leading experts and writers in the field to discuss the impact of "Happy Hooker" and the dozens of follow-up books (both fiction and fact) that came from Hollander.
Where such a field was considered beyond taboo in those days (her lawyer recalled his experiences negotiating his "first book deal in a … house of ill repute"), her work was considered a key part of the feminist movement that opened people's minds on the subject.

The film takes the viewer up to present day, with Hollander happily pursuing her artistic endeavors back in the Netherlands — receiving inspiration the same way she inspired so many others during her life.
To be clear: This film is not for youngsters, due to subject matter and some of the imagery presented. But it's the film's inspiration that dictates the use of such material, and Dunlap does a masterful job of avoiding gratuitous footage or soundbites when it would have been ever-so-easy to go that way.
Whatever one might think about Hollander or her career choice, viewers of this film will leave the experience feeling as far away from dirty as possible.
This review is also published on Paul J Lane's blog: "Live in the Slow Lane"