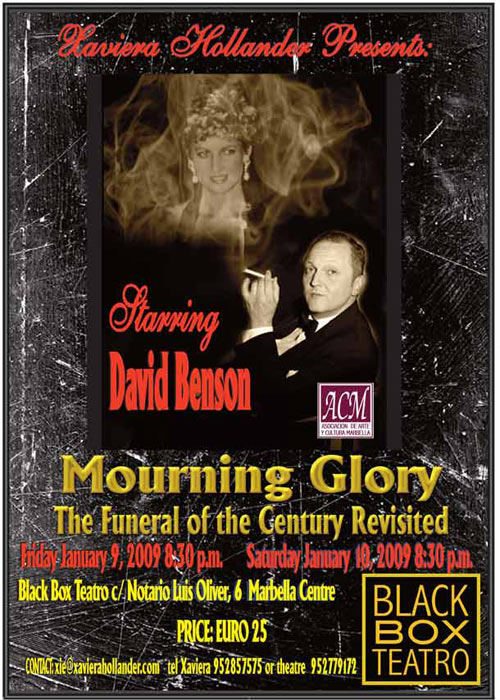 XAVIERA HOLLANDER PRESENTS:
MOURNING GLORY - THE FUNERAL OF THE CENTURY REVISITED
Written and performed by comic/actor David Benson

January 9 and 10, 2009 at Black Box Teatro

In 1998, exactly one year after the death of Diana, Princess of Wales David Benson's second solo show was the first to examine in detail the events of August 31st 1997 and the funeral that followed. A smash in Edinburgh, the show was equally successful at the Sydney Opera House. Now, in a specially updated new version of the show, Benson once again turns his sensitive but sardonic attention to one of the defining events of the last Century.

They said that "Nothing would ever be the same again."September 1997: the entire country ground to a halt for the Funeral of the Century. Yet twelve years later, the events of that day and the week leading up to it have taken on a surreal vagueness. Who can now remember which celebrity mourners showed up to pay their respects at Westminster Abbey? What unprecedented gesture did the Queen make as the coffin passed her front door? And just who, if anyone, was responsible for Diana's death, anyway?
David Benson examines these and other questions with the same acerbic wit and charm that have made his shows "Think No Evil of Us" "My Life With Kenneth Williams" and "To Be Frank" such favourites with audiences throughout Britain.

Take a front row pew at Westminster Abbey and SEE: Cartland - Branson - Kissinger - Barrymore -Cliff! - Elton - The Two Toms (Cruise and Hanks) - Dickie Attenborough- Tony - George Michael - Al Fayed - Mrs. Windsor and the entire Royal Family - and many, many more!

Avoiding much of the waspishness that could be visited on such an easy target, Benson delivers a touching, sometimes despairing rendition of the funeral in Mourning Glory.

Reliving that afternoon inSeptember, he introduces the celebrity cast one by one: Elton John and George Michael; the two Toms, Hanks and Cruise; Messrs Branson and Barrymore. It is a ghoulish collection, but all are upstaged by the presence of the Queen.
SHOWTIME: JANUARY 9 AND 10, 2009 AT 21.00 HOURS

BLACK BOX THEATRE c/ Notario Luis Oliver, 6 Marbella Centre

PRICE PER TICKET EURO 20
INFORMATION AND BOOKING OF TICKETS: CALL XAVIERA AT 952857575
OR EMAIL: This email address is being protected from spambots. You need JavaScript enabled to view it. or call the Black Box theatre at 952779172

================================
MOURNING GLORY
PRESS RELEASE
Mother, triumphant over her adversary. The rest of the Royal Family are portrayed as a sad collection of bewildered onlookers, sitting silent and nonplussed as first Earl Spencer delivers his onslaught and then the audience outside the church sets off a response that eventually infects all but the Royals.
The effect of familiarity is aided by Benson's excursions into impressions, which range from Frankie Howerd to a wonderful take on Tony Blair's Olivier- like funeral delivery of Corinthians: "The impressions relax the audience, it makes them trust me."
He is still, one suspects, rather envious of the more direct approach of one of his heroes, Quentin Crisp. "I remember he said, 'Diana was trash and she got what she deserved. How dare she divorce the heir to the throne and try to marry an Arab?'" But that's a stand- up line, and David Benson doesn't do stand-up.
What the critics say about Mourning Glory:

"... Praise should be forthcoming for sharp comic observation and Benson's increasingly impressive stage presence. His take-off of Tony Blair's funeral speech was almost scary, and his ability to interact with the audience strangely comforting. In the hands of the less accomplished, much of this material could prove clumsy and tasteless..."
Colin Somerville - The Stage

"... Surely nobody could make the national psychic trauma that was the death of our beloved Queen of Hearts anything other than the most ghoulish joke? David Benson could. In his skilled hands we learn of the real meaning of the day - "it took our minds off the boredom of our lives"; we learn why people lined up in Belfast to sign the book of condolences - "the queue was short"; and who the most nervous person in Britain was that sunny day in August - "It was Liz [simulates crown]. She was bricking it." For the sheer range of his performance, the tautness and vitality of his language, and the masterful comic insight, David Benson has few peers. And he can sing, the swine. Miss him at your peril..."
Mark Wilson - The Independent
A Xaviera Hollander Production