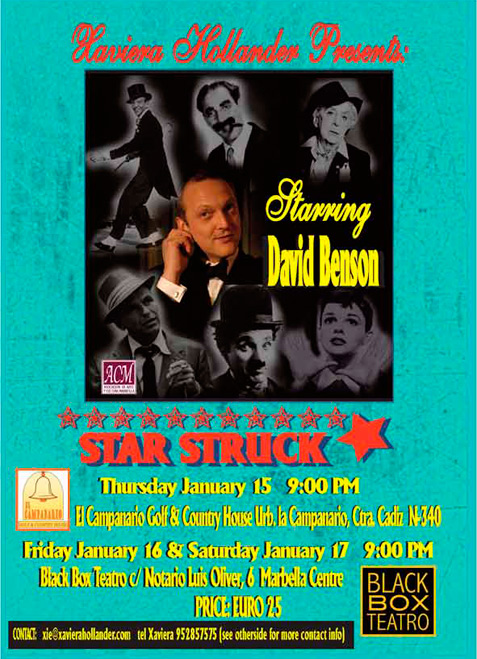 XAVIERA HOLLANDER PRESENTS:
STAR STRUCK BY DAVID BENSON

Who would be on your Fantasy Party guest list? Some people dream about it. David Benson lives it. Every night he whoops it up with the heroes of his youth.

Imagine having a party at which all your heroes are invited. How many of them would live up to your expectations? And how many would turn out to be a complete nightmare? In this magical, brilliantly performed show David Benson meets Quentin Crisp, Frank Sinatra, Fred Astaire,
Judy Garland, Groucho Marx, Noel Coward and many others -and finds out that hero-worship is not all that it seems.

Acclaimed at the Edinburgh Festival 2003, Benson brings Star Struck to Marbella for his first-ever appearance in Spain.
The show will take place on:
Sunday January 11, 7.30 p.m.
Theatre Sol Andalusi, Alhaurin de la Torre
tel. box office 952 112 057 or
email This email address is being protected from spambots. You need JavaScript enabled to view it.
TICKETS EURO 20
Thursday January 15, 9:00 pm
at El Campanario Golf & Country House
Urb. la Campanario,
Ctra. Cádiz N-340, km.168,
29688 Estepona Click here for directions to El Campanario
TICKETS EURO 20

Friday January 16, 9:00 pm
and
Saturday January 17, 9:00 pm
at the Black Box Teatro
C/ Notario Luis Oliver, 6
Marbella Centre
TICKETS EURO 20
For more information and bookings please call:
952 85 75 75 or email This email address is being protected from spambots. You need JavaScript enabled to view it.
or
Call: El Campanario: 952 90 42 33
or email: This email address is being protected from spambots. You need JavaScript enabled to view it.
Call Black Box Theatre: 952 77 91 72
CRITICS ABOUT STAR STRUCK
Article in SurEnglish>>
"Hilarious, moving and utterly magical entertainment" Edinburgh Guide

"The dinner party of your dreams, with guests Sinatra, Coward, Astaire
and Morecambe in David Benson's musical comedy" Evening Standard Critics Choice

"His party is a blast" Independent on Sunday