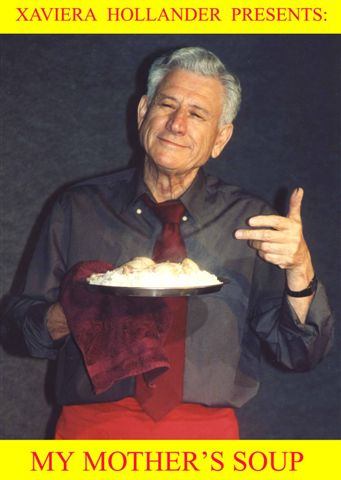 Xaviera Hollander presents:
MY MOTHER'S SOUP
by Nessim Zohar

It is worth going to see Nessim Zohar's production. My Mother's Soup is as full-bodied, flavorsome and exotically enticing as the molocheya soup Tel Aviv's famous writer/performer Nessim Zohar prepares during the show and is truly a treat for all the senses.As you enter the auditorium the smells of the middle east assault you, wetting the appetite and transporting you immediately to Alexandria in Egypt, where the plot unfolds.

Based around the author's life, this is an enchanting, moving, suspenseful and hilarious production. Memories of his childhood in Alexandria are summoned up and invested with almost idyllic overtones. As he stirs up the secret ingredients of his Molocheya, Zohar leads us on the journey of a young man trying to fight for the love of a mother he adored and hated at the same time.

Witness his secret spites and petty grudges, his terrible innermost secrets and above all, his enduring love and awe for his mother, the woman who fed his heart, mind and soul until the very day she died, reaching for an unreturned hug from her hospital bed. In a bid to ease his terrible guilt and reach some kind of reconciliation with his dead mother, the son prepares her favorite dish, Molocheya, on the anniversary of her death. It will be the first time he has tasted the dish in 50 years, having avoided its consumption out of sheer spite and bitterness since his early boyhood.

Like the soup, Zohar brings his audience slowly to the boil with a tremendously inspired performance that is as professional as anything you will ever see on stage. You will be hooked from the moment you enter until the moment you leave and although you are all eager to go out to the bar for a taste of the famous Molechaya soup, a little part of you wants to call "more , more".

You will no doubt say with your hand on your heart and a spoon in your mouth, this truly is the tastiest treat you will ever get at any of Xaviera Hollander's productions
Nessim Zohar - Playwright and performer:
Nessim Zohar was born in Egypt and immigrated to Israel in 1950. He started his acting career with the Haifa repertory company. Receiving a grant for most promising young actor, he lived for some years in New York where he attended the H.B. Professional acting workshop and studied filmmaking at the N.Y.U.

During his long career he played leads and major roles in all the repertory theaters in Israel, appeared on television radio and films. He has written scripts for film and theater and published a collection of short stories. "My Mother's Soup" is the third one-man show he has written and produced.
Nathan Datner - Director:
Nathan Datner was born in Ramat Gan, and has for the past 25 years starred in all major companies off Israeli Theater. His directing career includes " Sweet Charity", "Guys and Dolls", for acting studios,"Snapshots of a marriage" at Habima National theater, which he also translated and adapted. The musicals "Aladin" and "Cinderella", he directed for independent producers and lately the Israeli rock opera "Dorian Grey" for the Prague opera house.

This performance is sponsored
by El Al Airlines
Xaviera Hollander presenteert:
MY MOTHER'S SOUP
door Nessim Zohar
Beslist de moeite waard is deze productie van Nessim Zohar. 'My Mother's Soup' is net zo rijk gevuld en smakelijk als de Molocheya soep die deze bekende schrijver en acteur uit Tel Aviv in zijn show bereidt. Al bij binnenkomst komen de exotische geuren van het Midden Oost je tegemoet,die je onmiddellijk naar Alexandria in Egypte vervoeren.

Gebaseerd op Nessim Zohar's levensverhaal is dit een betoverende, ontroerende, spannende en humoristische one man show; met herinneringen aan zijn bijna idyllische kindertijd in Alexandria. Terwijl hij op het podium de geheime ingrediënten door zijn Molocheya roert, beroert hij onze harten met het verhaal van de jonge Zohar die vecht voor de liefde van zijn moeder waar hij dol op is en die hij tevens haat. Wees getuige van zijn geheime wrok en zijn kleingeestige afgunst, zijn diepste geheimen maar bovenal zijn trouwe liefde en het diepe ontzag voor zijn afstandelijke moeder.

Tot op haar doodsbed voedt zij zijn hart, geest en ziel maar hunkert hij naar een echte moederlijke knuffel. In een poging van zijn schuldcomplex af te komen en tot een vergelijk met zijn overleden moeder te komen bereidt de zoon haar favoriete maaltijd molocheya op de verjaardag van haar sterfdag. Het zal de eerste keer zijn in vijftig jaar dat hij dit gerecht weer proeft want uit pure wrok en bitterheid heeft hij sinds zijn vroege jeugd deze soep geweigerd te eten.

Net als Molocheya weet hij het publiek op fenomenale en inspirerende wijze tot kookhoogte te brengen. Vanaf het moment dat u de geuren ruikt van de soep die Nessim bereidt en de acteur in actie ziet bent u 'hooked' aan deze fascinerende en onvergetelijke voorstelling.

Neem een kleenex mee voor de tranen die u zult plengen vanwege het lachen en huilen.