Adios Villa Caprice; New Belgian owners…

January 2015 the final sale of my lovely Villa Caprice in Marbella was made.
I had sold it to a recently retired Belgian air France pilot and his wife.
Yuri and Theo, the two that looked after the villa, garden and pool, suddenly needed new jobs. Yuri, a big Russian bearlike giant, and his charming, much younger, sexy, round wife Julia (and their skinny teenage daughter) could easily survive without me. In fact Yuri seemed to cleverly have bought for his family a cute 2 bedroom apartment in San Pedro and had plenty of jobs as a private chauffeur and gardener/ handyman to keep his bread buttered.
Theo the problem boy
The only one left to look after was my 55 year old Dutch " Boy" Theo, a hopeless alcoholic beer drinking/cigarette smoking pool "boy", who has been with me faithfully for many years and also was a capable housepainter and gardener. So in various emails with the new owners I pleaded in particular with this Wallonian wife to hold on to Theo and to let him continue working for them as he knew the way the house worked better than anyone else after 15 years on our premises. I also repeatedly tried to ensure her that he would get a salary, even if it was very small, just for the 2 or 3 hours work a day, as otherwise he would be totally broke.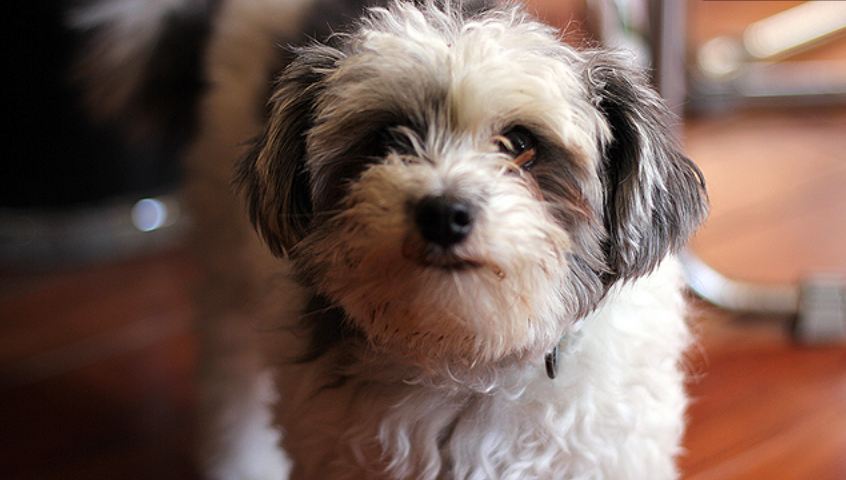 When this bitch wrote back to me that he should be happy to live in luxury in Yuri's old converted garage, now bed sitting room, in exchange for a few hours work a day, I knew things would go totally wrong as Theo was NOT a survivor and often could barely feed his cat or himself. I had then apparently answered her that she was clearly a "slave driver" and never heard of them again. On our last days stay, a dear friend of ours Luc, a Belgian musician (who married an amazonesk beautiful blonde Kristel of around 40, mother of 5 kids from previous marriages) came with a big moving van to remove all that was left of our furniture. Luc's help was truly moving, shall we say! I had promised the new owners to leave the house totally empty except for some beds…. This included things like carpets, many knickknacks, clothes, CDs, books, cupboards and lamps etc. and some adorable statues and paintings. We had all become friends several years ago. It was from them that I had acquired our sweet Suzie black and white mixed as well as mixed up doggy.
It is no surprise that Luc and Kristel were the source of our animals as the couple manage and own an immense animal rescue asylum in the mountains of Alhaurin: with at least 60 dogs and 40 cats and 3 horses. They work like mad and barely can make both ends meet as all their savings apparently go towards the care of their animals. Luc builds cages and feeds the animals daily, assisted by some of her kids and Kristel arranges together with her teenage kids to save as many lives of those various animals and put them up for adoption, take them to the vet first to get healed when they are ill, sterilized, injected and a passport so they could travel out of the country. A true Noah's Arch. They keep their beautiful heads high and proud, all because of their undying love for animals. So as it happens Luc had just started up two new shops for charity for the animals and they were so delighted to get ALL our furniture and clothes for free so they could easily sell it and use the money for their "four legged children" that he in return helped us move our stuff.
Farewell party at the Villa Caprice mid January 2015
A week before our departure Philip and I threw a lovely farewell party at the villa. About 20 of our long term friends showed up. Some came with bottles of wine and champagne, others had made some of their own favorite dishes and Philip did his best to out-cook them all with his fabulous great meatballs. One of our guests was a fun Jewish American cook, called Phaedra with a thick mop of pitch-black curly hair and a tragic yet funny facial expression. She was your ultimate often-loud-mouthed New York Jewish girl and had been working in Amsterdam since early 2000. She had had at least half a dozen professions in her life, from comedian to final cook for my dear friend Ben the Baker.
Phaedra and Ben had been living there in Churriana in his smallish but very cozy typical Spanish casita, filled with dozens of odd lamps, all sorts of stone turtles, his two red tailed parrots and collectibles he used to pick up there on the various street markets over the 45 years he lived in Spain. On the walls some great black and white pics Ben had taken in his youth mostly of Spanish people, landscapes and animals on the Galapagos Islands. Phaedra was originally living in Amsterdam, but wanted to move to a warmer climate, so it is through me she made it by train to Malaga and on her arm she had a small but adorable young daughter, called Mynka .
On Ben's roof terrace we could clearly overlook Malaga's airports landing strip. Churriana is quaint and small. For the last 6 years, Phaedra had managed to keep Ben alive. Much like me, Ben loved to pig out on all the wrong foods like peanut butter jelly sandwiches, chocolate, Dutch cheese, bread (he was a baker after all - once a divorce lawyer in Philadelphia) and loads of ice-cream… Result: a massive heart attack, coronary surgery and medical advice to shed a lot of weight as soon as possible. So I called in Phaedra to help him get better and she supplied him nothing but healthy food that tasted great but was totally fat free, thus managing to stretch his life another few years. For the last 25 years, Ben has been one of my dearest American friends whom, after I had arrived in Spain 35 years earlier, was my first great lover. I have taught this charming handsome Victor Mature look-alike, Ben the Baker, a hell of a lot of things he never had done before with women!
Shortly before we gave the farewell party for my beloved pals - Ben had suddenly died at the age of 72 and that while his bright mother of 103 was still living blissfully in Philadelphia where for half a century she WROTE the New York Time weekly crossword puzzle. She in fact died barely 2 months after her favorite son's demise, despite which, she still delivered one of her puzzle columns… days before she shuffled off her centenarian mortal coil!
New Years morning, Jan 2015, Phaedra found Ben sleeping ever so peacefully, or so she thought, until she realized he was having his eternal rest. It must have been a painless death. Phaedra and Minka were devastated and totally lost as he was the only one who fed them, gave them a roof over their head and generally provided the circumscribed shadow that sheltered them. Pinched, as mom and her daughter were sustained on a very tight budget. That was the only flaw in this man - he was as tight as a crabs ass when it came to money matters.
Ben's ashes
Now comes the odd ending of that afternoon party on the only rainy day in the winter of Marbella. While we were all eating and drinking and chatting away in our spacious living room, Phaedra had shown me in a small wicker basket the remains of Ben - well, his ashes. She pleaded with me to let her bury the ashes in a stone Moroccan urn in OUR garden as after all I was his best and, in fact, only true soulmate. Yet neither Philip nor I wanted this to happen. We never buried our dead animals in our garden at all, besides it would soon no longer be MY house anymore!
So, instead, I suggested to her she spread the ashes of dear Ben around our pool and garden and give him a farewell speech while doing so. In the meantime it had started to rain so hard that I decided not to join her on this trip but instead invited her to start eating the delicious food, we had displayed on our dining table after she returned from her journey with Ben's ashes. Shortly after the downpour had started, the sliding doors to the garden opened and we were all seated around the big table, when Phaedra walked in with her hands up in the air, obviously starving she reached over to the table and grabbed one of Philip's meatballs. Just as she had taken the first bite of the juicy meatball I tapped her on her shoulder and said to her: "Look what you are eating right now…?" her hand was full of the yellowish dust! Ben's ashes! Ashes that had obviously blown back to her hand, as the wind blew in the rain storm. She yelled out loud to everyone in the room: "Oh my God I just ate Ben!!!"
Back to the Book Business at last

Back in Holland the BB business slowed down a bit as it was winter time, so I had plenty of time to work on my new book Supersex, I had written in English about 45 years ago and now decided to translate it into Dutch. I found an excellent Dutch poet/translator Joep Bremmers, introduced to me by well known American poet Eddie Woods during a fun performance of the two poets on stage bringing work from Alan Ginsberg and Simon Vinkenoog at the BIM house in Amsterdam. I hired Joep Bremmers, who instantly became a good friend to help me translate and edit my Supersex book from English into Dutch. I also found a great Irish artist Shaun who illustrated this coffee table item with lovely nude women and a few men in the various sexual positions I had described in my book. And now December 2015 I just signed a three book deal with a Dutch young publishing house Gibbon to bring out this big and educational book SUPERSEX next year round Valentines day as well as a reissue of the HAPPY HOOKER and part I of a major new book called WALL TALK –if only the walls could talk! This will be probably by the end of 2016. Funny coincidence about the Super sex book I had published 45 years ago in the USA. In those days there was no AIDS yet, nobody knew what the G(rafenburg) spot was or what squirting meant. Sex toys and tools were primitive - not as elaborate as those of today's sex boutiques by a long shot! And the funniest thing of all was that the women in those days 40 years ago would all have long natural pubic hair and most still had hairy armpits. I had just started writing for Penthouse Magazine (my 'Call Me Madam' sex advice column ran for 3 decades) and as Bob Guccione, the founder of this magazine was Italian he LOVED hairy pussies… But nowadays it is no longer the way women want to be portrayed. But… I already had all these great drawings for this book. So, I had my good friend Henk Visser, an excellent photographer, scan the existing drawings and then started trimming their pubes on the computer, so that suddenly the new versions looked a lot tidier and up to date!
Spring 2015 - Love is in the air!


One nice Sunday afternoon I took my husband Philip and two young friends who occasionally helped me out with the BB, shopping to the newly opened HALLEN in Amsterdam. This was an immense food fair where on Saturday there was also a fair for other things. The Hallen is an interesting old industrial area converted to an enormous food court with a mix of pretty strong smelling fried meat, where people would mostly sit on wooden benches. At the end of this food mall this day there was a large area where people were sporting their goods to sell from hats and sweaters to bicycles and art work, sunglasses or jewellery and we were going to look for our friends Robert and Joost a darling gay couple I had met earlier on this year. Robert, who used to be quite a well to do business man was now out of work and as he could not sit still he decided to sell - on various days of the week all over Holland on different street - or indoors markets - his unusual goods. They showed a wide range of colorful sweaters, t-shirts and jackets with funny colorful designs that immediately drew people's attention. They basically rented a space at the market and were stuck at that stand for the rest of the day. After the boys and I had seen most of the stands we were slowly reaching Roberts colorful location when my eyes caught a lovely young Asian woman walking towards me, arm in arm with what turned out to be her smaller American wife. The Asiatic woman apparently was a great fan of me as she had read all my work when she was still a teenager. My fan was a lot taller than any other Chinese woman I had met in my life. Her sparklin g smile instantly mesmerized me, She had the biggest most cheerful laugh with sparkling white teeth on her pretty face , surrounded by shoulder long pitch black hair.
MAGIC MOMENTS between Maike and Xaviera


I could see how the more butch one was elbowing her slender tall woman, obviously pointing at me. I was quite close to them now . Apparently Linda (the American) had recognized me first. Maike ( the Chinese woman) with her brown eyes and very red shining lips fascinated me immediately and so did her thick black shoulder long hair I could feel through my fingers as I hugged her for the first time (not the last). They had quickly introduced themselves to us. Maike blushed as Linda approached me with the words: "Hey, you must be Xaviera Hollander, the Happy Hooker?" I nodded, while the boys walked on and then Maike hugged me and said how happy she was to meet me in the flesh. I suddenly felt goosebumps go through my entire body and my heart started beating faster. Maike, apparently had been adopted as a 4 year old in Hong Kong by very nice Dutch parents , but even though she was in many ways totally Dutch, she turned out to still have something very mysterious Asian about her: a very emotional and sweet side! We saw each other quite a lot over the coming year. She was clearly a lesbian and very fond of me, though in the past she also had had a few affairs with men, but her heart apparently belonged to women and she and Linda were married in Amsterdam 6 years earlier.
Maike was originally a successful sculptress, but then decided to study and become an art teacher at a well-known respectable high school. She also knows a lot more about Apple computers and mobile phones than I do. I was never one for mobiles, but when Philip and I went back to southern Spain autumn 2015 for about 3 weeks, both Philip as well as Maike she taught me all about sms and WhatsApp. According to Maike… no matter what complaints she gets from either her wife or any other friends about WHAT ARE YOU DOING WITH THAT MUCH OLDER WOMAN XAVIERA? For her I am apparently still her number one girlfriend and we like to remain that too. What we seem to share is a natural warmth and affection which goes beyond age or weight differences, a kind of equality like two soul sisters may have in common with each other. I also speak her own language, Dutch , which her wife still does not do. We are both quite energetic and think positive, but she is also super sweet and caring, which feeling I so far only felt with my own man Philip. Maike turned out to be a devote and faithful/helpful friend and we adore communicating with each other until the early hours of the day: by facebook messages, Skype or phonecalls and email. I LOVE her charming smile and great sense of humor. One flaw she has however and that is that she is a crazy scary driver in her old beaten up Fiat Panda, hence she prefers to come and visit us on her bike. Yet she is a devote, cheerful friend with a brilliant fast brain. She also is a GIVER and hardly ever comes here empty handed. We share the same passion for colorful scarves so we never have to look boring at the many selfies she likes to take of us.
To this day Maike and I are closer to each other now than any other woman has been to me in the past. The rest is history. She is married to Linda since 6 years and loves to have fun and flirt with me, or go places when Linda is not in the mood. She prefers to speak Dutch, so regularly - if her wife permits her - Maike and Philip and I do visit some great Dutch theatre plays. Often we go out to some carefully selected art movies when Philip prefers to stay home. Maike is a very obedient partner and girlfriend who aims to please all of us. It took Philip quite some time to accept her as a new family member. This is what I believe a form of polyamorous relationship. And usually the two of us go out together and Philip then cooks us all a fabulous meal. Maike is also very fond of chocolate and yet she remains soooo slender..!!
Talking of girlfriends: ANNETTE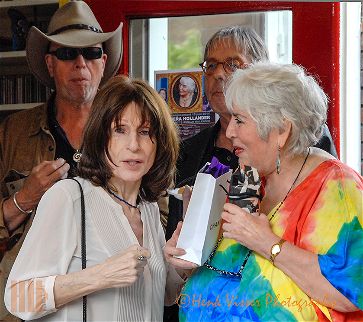 My dear old Dutch friend Annette,(77) who I knew over 40 years when she lived in Los Angeles, where I visited her regularly, has been battling leukemia since two years. Mother of one handsome son, Rocco, a talented lawyer, with a wife and 3 kids, she was reaching the end of her rope round my birthday when she suffered so much pain that she no longer could climb her steep staircase to her lovely flat on the 3rd floor.
Until then Philip and our mutual girlfriend Kerstin used to come and fetch Annette weekly by car, in order to take her to the AMC hospital for medical check ups and most important of all, to get her blood transfusions, as, like a real vampire, Annette could NOT survive any longer unless she received blood transfusions every few weeks and towards the end of her life every week. Spring 2015 her situation got really bad and only a fire brigade could actually manage to get her out of her 3rd floor flat with a big metal moveable ladder that was entering through her bedroom window and lifted her up from her bed and on the way back dropped her off again in her own apartment. Over the next few months the fire men became real friends with this cheerful pale woman, (who all her life did resemble Barbara Streisand) and they exchanged many a joke with each other.
What we all adored about Annette was her enormous optimism and hope that some day someone would invent the right medication to keep her alive, but also her Jewish sense of humor even under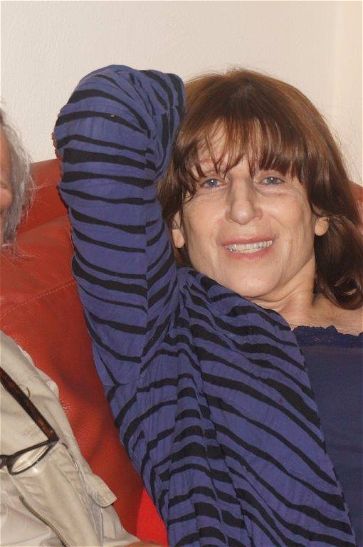 horrid circumstances was hilarious. So once someone asked her "How is it to go by fire brigade in and out of your own bedroom?" she laughed and said: "At least I have the best view of the city when I hang between heaven and earth and they slowly take me down to street level."
ANNETTE'S CREMATION PROBLEMS

When she, who used to teach singing and music and knew all about technical things finally died… this past summer, I gathered with her friends and family as she was being cremated in a suburbian town cemetery and it so happened that exactly at that time there was an enormous power failure for quite a few hours in the electricity all over Amsterdam. This caused not only a lot of visitors to come very late, due to the fact that the trams did not run either, but also the sound equipment in the hall for visitors was off as well as a microphone for the various speakers and musicians during the cremation speeches.
So imagine this brave woman who was such a perfectionist all her life had a cren=mation ceremony where the sound was malfunctioning and now none of the audience and or speakers (me included) could understand a word of our well prepared emotional speeches. Luckily I had printed mine out about 20x so I handed my text around to her son who surely distributed it to those who were interested.
MY THREE POSTMEN OVER THE YEARS
On my 72nd birthday, June 15, as usual Philip and some friends prepared all sorts of fine salads and light meals for my yearly garden party. Even my handsome grey curly haired postman/author Viktor Froelke, his charming sweet wife and two adorable kids showed up. I now know at last 3 men who used to have totally different professions in their younger years and each of them had later on in life chosen to become a postman, in order to keep their legs moving and pleasing people with sometimes fun news and or newspapers and thus compensating their meager incomes from pensions or retirement money.

One of these men is HENK VISSER whom I know from my Canadian years in Toronto, when he was a famous hot shot handsome Dutch photographer with a devilish big black beard and a head of pitch black curly shoulder long hair. Anno 2015, being Dutch himself he has been back in Holland now for the last 30 years, where we met again purely accidental at an SM fetish exhibition. Now at the age of 72, Henk who had become totally grey, but still was a handsome slender man with pitch black eyes behind dark rimmed glasses, received his first old age pension at 65. He liked to get fit again and walk, so he became a postman in one of Hollands smaller towns where he had been living, also in order to meet some people from his neighborhood, who usually just nodded when they passed each other, so he applied for a job as a postman.
JACQUES, from Rotterdam
Then there was, many years ago, still during my more kinky days Jacques, a neurotic but sweet and obedient busy skinny man in his forties, who turned out to be an enormous masochist. He was a postman as well and would regularly come to Amsterdam, especially when there were plenty of fun people at my usually artistic get-togethers. He was one of the most masochistic slaves I ever had and sure could handle some heavy treatment by me, but what scared the audience most was the scarification he begged me for, while he was on his knees, only dressed with a doggy collar and a pair of black leather G strings and I was piggy riding him. I then at some point, - when he had rather a lot of beers first, to get some Dutch courage for my heavy duty treatment - started to put some pretty mean nipple squeezers onto his nipples, I would swear at him, preferably in loud German swear words like:"du Schweinhund " …and spanked him for a while, the public was screaming with enthusiasm. What happened after this I won't mention…… as it is supposed to be a peaceful X-mass letter or novella. Some hot candle wax was dripped over his bare back… the rest is up to your own imagination. End of spectacle, applause… sometimes.
VIKTOR FROELKE from Amsterdam

Well Viktor is by far the most intriguing one of these three; in his early forties ,who also can not make both ends meet by simply being a writer of a few books, so he compliments his irregular royalty income with being a postman. And every so often we ask him in and offer him a nice warm cup of tea and chat for a while before he climbs back on his bike to continue his delivery work. Sometimes he even plays a few songs on my piano. and lately we all go out together to some performances or musical events.

MY 72ND BIRTHDAY PARTY ON JUNE 15, 2015,
as usual, was a smashing success. About 60 people showed up, I had two great new talents perform two totally different kinds of music for us. The first one Tom de Jong was introduced to me by my ex-lesbian lover and still good friend Dia, a few weeks earlier. He has a beautiful deep velvety voice, charming, somewhat rugged looks and gay as he may be, he also adores women and is a great host as I was later in the year to find out. Tom loved singing his own compositions but also songs from our famous singer Ramses Shaffy, who died helas a few years earlier of too much alcohol consumption and Korsakov. Ramses, who had been a good friend of Tom for years, had become a kind of national hero in Holland and many singers after him tried to copy his style: intense, serious and intelligent but most of all rebellious. None had sounded as real as Ramses himself until… the day of my party Tom took to the microphone and surprised us all! What a voice I even preferred his to Ramses real sound.
The most famous song and also my favorite number of course written by Ramses was called LAAT ME (Leave me) which contents reminded me a bit of my own earlier lifetime of total freedom and not wanting to be tied down by any one. The song which got us all to dance in the garden was a simple fun song basically consisting of one typically Dutch word: LEKKER (like in FINGERLICKING GOOD).
Then there was the much more effeminate German flower salesman UDO Philip knew quite well. He turned out to be an excellent opera singer: all dressed up in grand gala long gown, heavily made up and with an enormous high wig almost touching my lamps.. Udo surprised us all with his great voice and performance who could switch easily from baritone to soprano. Philip and I had heard him sing a few weeks earlier: a wide range of well known opera songs at a cozy old age home, where the mother of his husband had just moved into due to Alzheimer. We were amazed how the old folks were wildly enthusiastic and participated in these songs even remembering the exact words. Most probably suffered from a short term memory problem but these words they suddenly did remember!
My musician friend Frank de Kleer, the fine guitarist of Spanish flamenco music, or Latin dance music sat outside in the garden with his friend who joined him for most of the music. Then Raul, a tall sinewy French young very effeminate dancer, gave a hilarious burlesque kind of strip tease, also accompanied by Franks guitar and made the entire crowd in the garden sing and dance along with him. The public consisted mostly of some good old friends and then some pretty younger new lesbian women, all friends of Maike and Linda.
Another memorable person they got along with was my also fairly new American girlfriend Sharene and her husband Harrison, who used to run a big B&B agency in Hawaii, but always wanted to spend their retired years in Amsterdam. They bought a fabulous house not far from our place and ever since we became instant close friends, they took over what I used to do years ago: to give house concerts every month or so when they invited often really great jazz musicians from all over the world. Sharene is in her late 50s, a firy petite brunette, impeccably dressed and her man, Harrison,- much like my Philip - usually wears the most colorful Hawaiian shirts. Sharene, like Maike is also a most generous person and both women are basically out to please those they like and love most. Sharene has been married for 29 years, however they are the perfect polyamorous couple who attend and give tantric yoga massage sessions all over the world and sometimes advertise in those type of magazines on or off line. Meanwhile he has acquired a lover in Austria who he visits one week out of each month and SHE lately also fell in love with a hunk of a much younger Dutch IT man and everybody seems perfectly happy. Great hosts, these two and always generous, also when they come to our house for parties or dinners - never empty handed - and she is a super cook in their elegant home on Amsterdam's gold coast. Of course they met Maike and Linda and later on in the year invited them for luncheon where Sharene tried to convince Linda to accept what polyamorous relationships meant, but she declined the hidden message to join forces, while Maike smiled like a Cheshire cat and knew damned right what it all meant.
SUMMER TIME 2015 end of September/begin October
In short, I was not really missing my lovely villa in Marbella with all the hassles about finances and quarrels between my personnel over the years. Glad it was sold in time to pay off my own bank debt and still have a bit left in the Dutch bank! As Philip and I had the busiest year ever in the BB business we did not even have more than 3 weeks' time to go South.
Luc and Kristel our dear friends who have the animal society Arch of Noah had invited us for a very special low price to stay at their neat 3 bedroom flat in a la Carihuela, a beach resort which is very close to Fuengirola and also not far from Marbella, 2 minutes from the beach and close to many restaurants. We promised to take a couple of refuge dogs with us (to be adopted), back to Holland so they gave us another reduction of euro 150 each on our return flight. We would then deliver 4 dogs to an entire family waiting for us at the airport round midnight to pick up their adopted babies. So emotional for everyone involved, tears started flowing and young kids were hugging the woolly doggies.
Of-course we even threw an intimate garden party for Giorgio and Louise, Robin Chapman and Josephine, Del, Paul and Barbara. So good to see those people again, who have been my friends for almost as long as I lived in Spain which is nearly 40 years.
In between our two week stay we were invited to go to Marakkech (Morocco) and enjoy a week at Stanley's riad in the medina (heart) of town. Stanley we met at one of Tom de Jongs parties. What a beautiful country and what gracious host but what bad smell of the many mopeds exhausts. The Medina with its many colorful stands was interesting and bigger than I ever saw in Istanbul or Jerusalem. What took us a few days to really get used to were the sounds of the muezzin starting their prayers as early as 6 a.m. ALAAAAA AKBAR and then a few more times in the rest of the day. After 2 nights I slept right through it, but Philip was most disturbed each morning.
Stanley proved to be an excellent host and lend us his Moroccan young chauffeur Youssouf who drove us safely through the most hectic streets, packed with hundreds of motorbikes and old bangers of cars. Amazing to see Moslima women of all ages climb behind their son's or lover's back on their mopeds and on their heads: the colorful scarves and … on top of that a helmet…
Philip and I went and bought 4 fabulous Moroccan kaftans for me for which I clearly paid far too much as I was too embarrassed t go on haggling about the price. Youssouf took us all over the neighboring hot and dry villages until we found an idyllic spot to have a nice luncheon on a shadowy terrace next to a lovely pool overlooking the beautiful foot of this incredible Atlas mountain. Stanley apparently has bought property all over this gorgeous country where houses and builders are very cheap: euro 10 per day… but they are damned slow.


BACK TO AMSTERDAM IN OCTOBER 2015 RAID AT THE B&B
Our Xaviera Hollander's Happy House B&B started to slow down some , but in the weekends we still usually had all our rooms fully booked. Our biggest money maker was the romantic Garden Chalet, fully equipped with central heating, double shower and toilet, TV , internet and a most comfortable king size bed , own private garden terrace and located on the ground floor. Suddenly on a Friday morning round 10 a.m.. we had what you may call a raid in our house by three people from the Amsterdam city council and a big fire brigade officer. Over the last few weeks we had read in the papers almost daily how these people closed down all sort of BB locations, from tiny flea bag places packed with more than 4 people per room to big houses full of bb clients . Four people per BB establishment was the law. So from now on there would be razzias left right and center. The entire city had been checked out carefully by this what we call Hotel Gestapo and several of our colleagues had in fact been closed down the weeks before. This time it was MY turn. Based on my website hat showed I had 5 bedrooms to rent instead of two. I was forced to close down three of our most beautiful rooms : the Garden Chalet , the romantic Skylight Loft and the Luxury Loft. All I was left to use for BB purposes from now on would be the David and Goliath ( a bigger one with king size bed and own terrace) and no other room. Imagine we had just lowered all prices for the winter. Even the Garden Chalet could not be used any more due to danger of fire… so our financial income was being cut into more than half our usual income.

DANGER OF FIRE.. was the main argument: no escape ladders or fire extinguishers , a shared front door. You name it, they would use it against me in court if I did not stop per immediately renting out more than 40% of my house. Those stubborn looking hard headed men did not have any sympathy with the clients who had just arrived and for whom I quickly had to arrange another location instead of mine as the LAW went upstairs and cut out three fine locks and promised they would come back in the afternoon with the locksmith who would then install a new lock in these 3 doors. The keys I could pick up a few days later after the weekend. This was a total embarrassment for us, as most guests were just starting to have their breakfast downstairs. All in all a week later we got the new keys back.. and now have still to find some new official tenants for our lovely attic instead of well paying BB guests. So much bureaucracy and animosity we were suddenly facing with , visits back and forth to the municipality. Even the basement also with central heating , a separate room in the back and an escape route through the little window to the garden was verboten territory due to fire thread. THIS we are fighting as it was the place for Alki, our official Greek personnel. So basically we are now down to two B&B rooms instead of five and at this time of year for a very low winter price as well!


GOOD NEWS AT LAST
On December 5 – SINTERKLAAS DAY in Holland, I have signed (together with Coen and Gert Jan de Vries from Gibbon publishers…) a three book contract for reissue of THE HAPPY HOOKER in Dutch, SUPERSEX and WALL TALK – all in Dutch . The first two will be published first week of February shortly before Valentine's day.

PREPARATIONS FOR LAUNCHING OF REISSUE OF THE HAPPY HOOKER AND SUPERSEX early February. 2016 just before Valentines day
More about all this in my next newsletter. First there is the great new cabaret act with my friend Tom de Jong who formed a nice band with a young pianist and violist., Then there is the funny ageless comedienne Hansje van Ravestijn accompanied by my good old friend and ex husband of Fifi L'amour (helas dead since a few years) Rodolfo Ravissant, still as sexy as ever before. and so talented
The best guest act was in our opinion the fun comedian/singer/songwritfer the witty Merel Moistra now a happy girl who used to be an unhappy boy. Opening night at NEXT DOOR nightclub right annex le Garage Restaurant on December 13 was a succes fou with full house... well done Tom. .

SO.. I hope you didn't fall asleep while reading through this very long X mas letter. You can always skip the boring bits and focus on the fun stories. Philip and I would love to wish you and your nearest and dearest a very happy New Year in reasonable health !!!!

Xaviera and her man Philip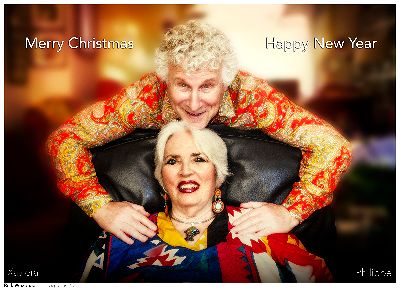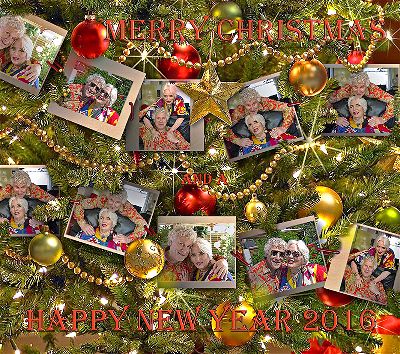 A little Christmas cheer goes a long way!! Love & Happy 2016 Xaviera & Philip