Hello dear friends,
Helas my big birthday bash in June is well behind me again. How time flies! Back to B&B Business again. Just rented our lovely top floor romantic attic to a divine 30 year young Russian female lawyer - on her own. That should be nice and quiet above our heads!
Norway holiday trip
Meanwhile Philip and I spent 10 glorious days in beautiful Norway, where we took an unforgettable 7 hour train ride from Oslo to Bergen and passed dozens of incredible fjords. Even enjoyed reasonably warm summer weather, though prices for booze and cigarettes were ridiculously high. Hallelujah we don't drink alcohol nor smoke cigarettes any more. I even gave a major interview in one of Norway's most popular newspapers. Read more about it via the link in my press uk page.
Flex office space instead of garden chalet
Now back to the Bed & Breakfast business in Amsterdam, as the LAW forced us to close down our most beautiful Garden Chalet as well as the luxury loft we have converted that to a temporary flex office space.
Are you looking for a work-space to rent one/two or more days per week? We are offering to rent on a daily basis a work-space located in Amsterdam Oud-Zuid that can fit the majority of the working professions. Surrounded by shops, cafes and close to the RAI. See video below for more details. If you are interested in renting this creative office space in Amsterdam you can contact me at This email address is being protected from spambots. You need JavaScript enabled to view it. or +31(0)20 6733934
Gay pride canal parade
We also survived the crazy and fun Gay Pride on the canals of Amsterdam, with 80 different colorful crowded boats. No terror attack !! So we will still pull in the tourists for a while!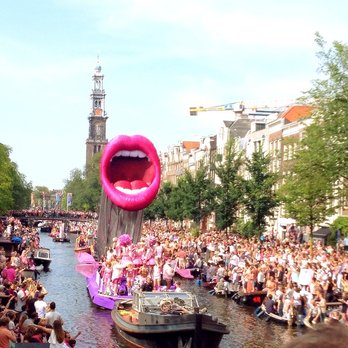 Have a nice summer everyone!
Love, Xaviera