Hello dear friends, family and fans: BEST WISHES FOR A HAPPY HEALTHY NEW YEAR 2021!!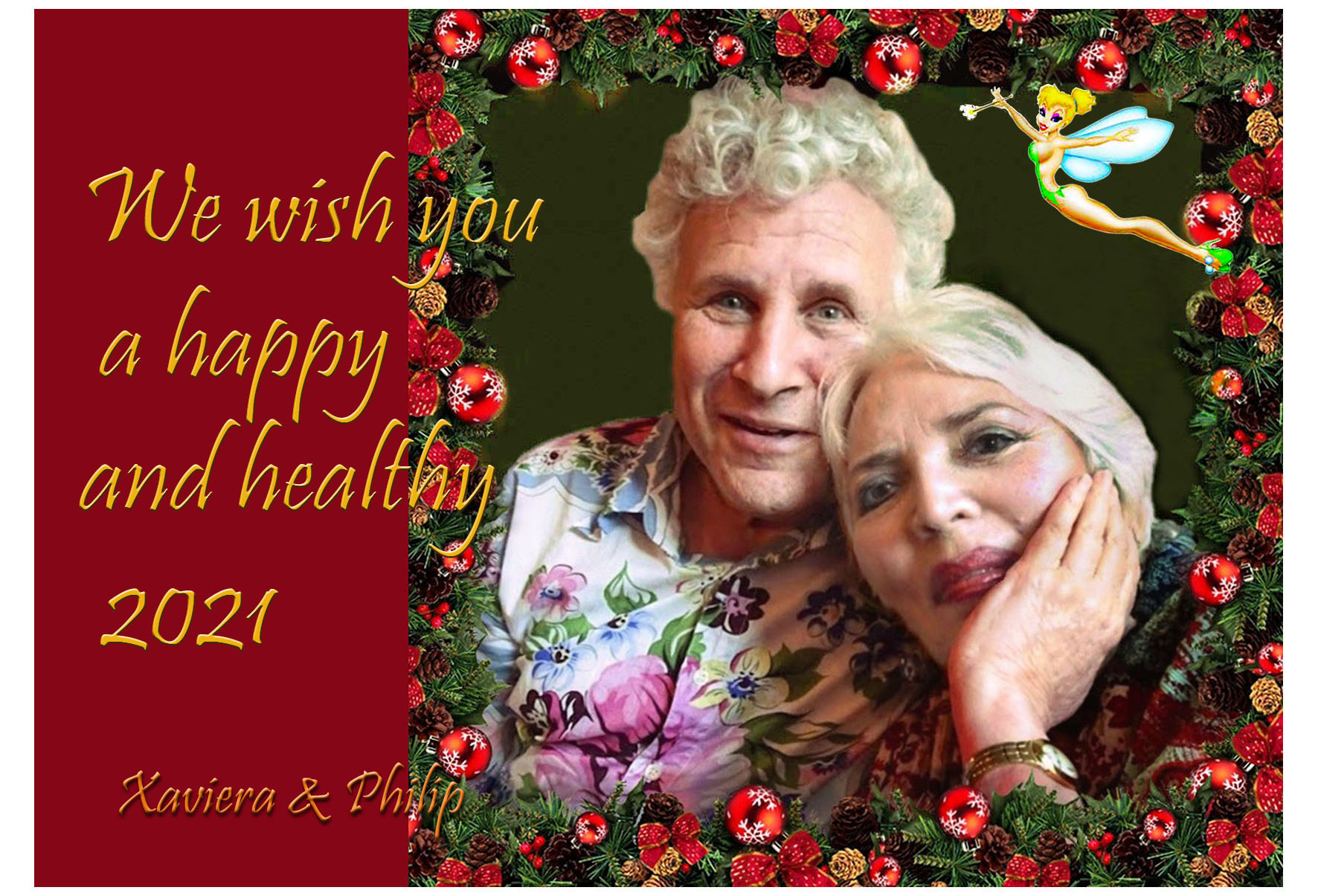 It is the end of a most memorable year, which has caused havoc and many dead people worldwide due to the Corona virus but... hallelujah there seems apparently to be light after darkness, when finally the vaccination of millions of people can start worldwide in the beginning of 2021. So far so good, amongst our own friends we only know a handful of them, who in fact contracted Covid-19, but they all survived.
What I miss most of course is the fact that we better NOT HUG or even worse KISS one another anymore; it seems specially our visiting girlfriends miss it more than our male visitors.
Logically Amsterdam's once so busy red light district is almost empty, already since a few months and cozy bars or restaurants all over town and the rest of the world had to be closed for the umpteenth lock down. Bankruptcies are looming over thousands of businesses, except of course the super markets are booming and post delivery of parcels and food- to- go. Our bed and breakfast Xaviera's Happy House BB is flat on its ass, but we have luckily found some lovely young and fun people to stay with us for the time being. Once the boarders are open again there will always be one of our finest and biggest rooms available for our BB Guests.
A dear bohemian eccentric friend of ours for the last 18 years, called VINCO,or better still Dr. Zhivago, came to visit us a few weeks ago. He is originally from Dubrovnik, but had a fine jewelry store in the heart of Amsterdam when I met him, since he is the designer of some incredibly nice byoux, like big colorful earrings in the shape of enormous cherries. We know each other as long as I know Philip and he has on three occasions over these last years, invited us to attend his lovely PETITE FESTIVAL DE THEATER in Dubrovnik, where I was asked to produce three different one man/woman shows on the stage of this romantic theater in the middle of this dreamlike place called Dubrovnik.
Now Vinco has written a very nice poem in English for these coming holidays... but he has meanwhile managed to come up with a dozen or so international friends of his and mine, who have made a spoken version of his poem, each in our own language!!
Here is the Dutch version I did for him and the English one as well
Als ik je kus, sterven alle werkwoorden van de wereld.
En bloemen stoppen met groeien
En de regen stopt met vallen
En dromers stoppen met dromen
En baby's stoppen met huilen
En dronkaards stoppen met drinken
En pianisten stoppen met spelen
En vogels houden op met vliegen en schepen stoppen met zeilen
En dichters stoppen met schrijven en acteurs stoppen met acteren
En dieven houden op met stelen
En niemand drinkt dan koffie ...
En niemand steekt dan een sigaret op ...
En niemand loopt dan in de lege straten ...
Zelfs de maan houdt op met het begroeten van geliefden!
Zelfs de klokken houden op met het aankondigen van nieuwe doden!
Als ik je kus, zijn alle werkwoorden van de wereld dood ...
Alleen die op je lippen, alleen die leven!
And here is the UK version of the above poem
When I kiss you, all the verbs in the world die
And flowers stop growing
And the rain stops falling
And dreamers stop dreaming
And babies stop crying
And drunkards quit drinking
And pianists stop playing
And birds stop flying
And ships stop sailing
And poets stop writing
And actors stop acting
And thieves stop stealing
And nobody drinks coffee ...
And then nobody lights a cigarette ...
And then nobody walks in the empty streets ...
Even the moon stops greeting loved ones!
Even the bells stop announcing new dead people!
If I kiss you, all the verbs in the world are dead ...
Only the ones on your lips, are the only ones that live
And here is just a nice poem to read out loud... a so called tongue twister:
Dearest creature in creation,
Study English pronunciation.
I will teach you in my verse
Sounds like corpse, corps, horse and worse.
I will keep you, Suzy busy,
Make your head with heat grow dizzy.
Tear in eye, your dress will tear.
so shall I! Oh hear my prayer.
Just compare heart, beard and heard,
Dies and diet. lord and word,
Sword and sward, retain and Britain. (Mind the latter, how it s written)
Now I surely will not plague you with such words as plague and ague
But be careful how you speak:
Say Break and steak, but bleak and streak;
Cloven, oven, how and low,
Script, receipt, show, poem and to Hear me say, devoid of trickery,
Daughter, laughter and Terpsichore
Typhoid, measles, topsails, aisles,
Exiles, similes, and reviles;
scholar vicar and cigar
solar, mica, war and far
one, anemone, Balmoral.
The coveted annual art and science festival, Le Petit Festival, message for 2020 is "Love against virus and its energy". We still believe LOVE can and will conquer. Dutch is one among many languages in which this poem is translated by Xaviera ... All these languages will cruise around the world... Arabic, Hebrew, Farsi, Portuguese, Japanese, Greek, Turkish, Russian, English, Finnish, German and many others, as if they were brothers and sisters spreading the word globally: "Help each other because WE ARE ALL ONE!" This poem refers to a woman, a child, a mother, a man, to God, to Nature, to Universe, to our blue planet. Even perhaps to LOVE. So, Vive L'Amour!
Here is a lovely song that will please our friend Vinko surely as well as many others.
Musical Aramaic rendition
WELL, DEAR FRIENDS... I SEEM TO HAVE REACHED THE END OF THIS X MAS AND NEW YEARS NEWSLETTER.
MAKE THE BEST OF WHAT IS STILL TO COME NEXT YEAR!!!
Love from Philip and Xaviera in Amsterdam.
Final note to all of you... I have managed to write two big books for the 50th anniversary of the Happy Hooker Book I published in 1971.
These new books are called
XAVIERA HOLLANDERS WALL TALK I - THE WISENED BIRD OF PARADISE or in Dutch DE GELOUTERDE PARADIJSVOGEL

and
XAVIERA HOLLANDERS WALL TALK II: XAVIERA'S HAPPY HOUSE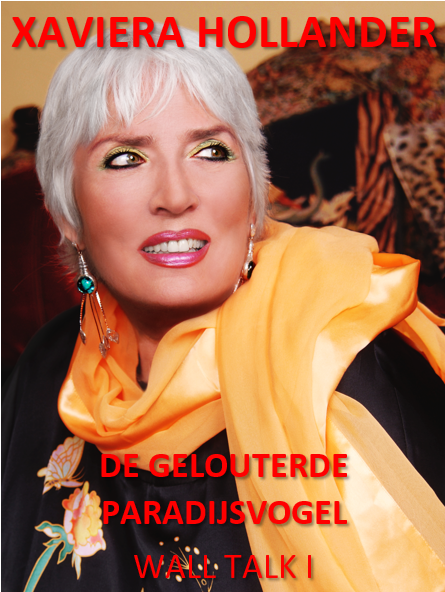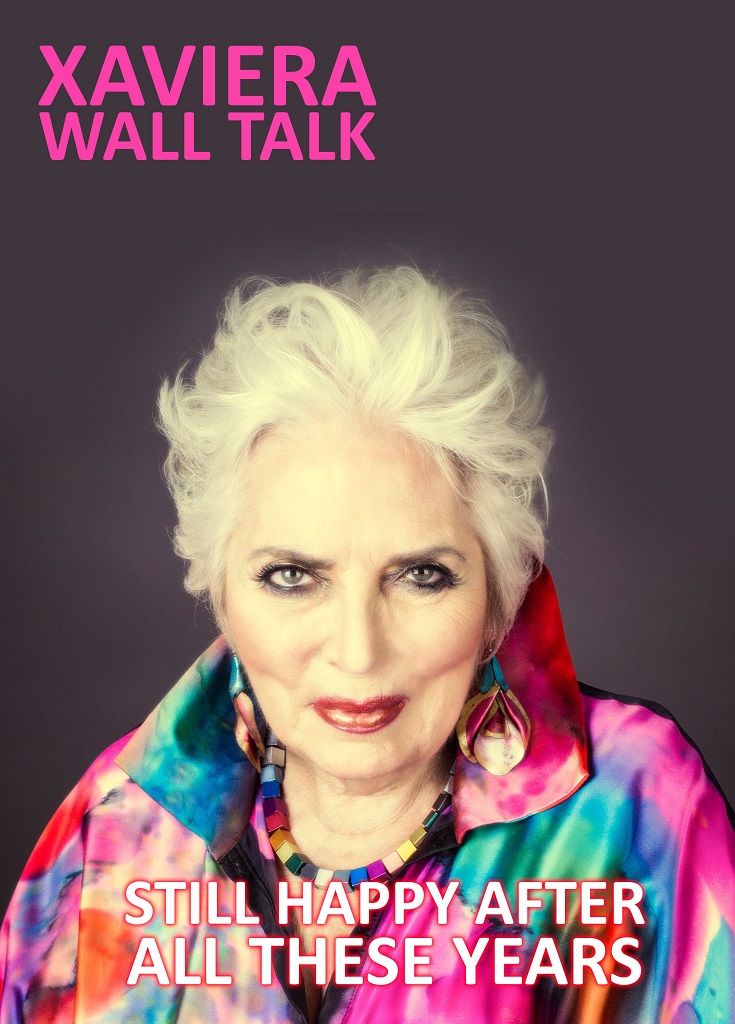 I FOUND A GREAT DUTCH PUBLISHER WHO WANTS TO ISSUE THESE TWO BOOKS NEXT YEAR, HOPEFULLY WHEN SPRING IS IN THE AIR AND COVID IS GONE.
Meanwhile I have added a few new items to my on line webshop, a.o. some spoken versions of my books, an old lovely LP with naughty songs, written and sung by me, one of my older favourite books called HAPPILY HOOKED, or what happens when two raving egomaniacs get addicted to each other's bodies and minds (the love story between John Drummond and me in Marbella 25 years ago), the award winning documentary of my life by Robert Dunlap and even a newly found copy of a comedy film I play the leading role in, called MY PLEASURE IS MY BUSINESS.
For further information please check out my web-shop