Earl Okin musical genius & sex symbol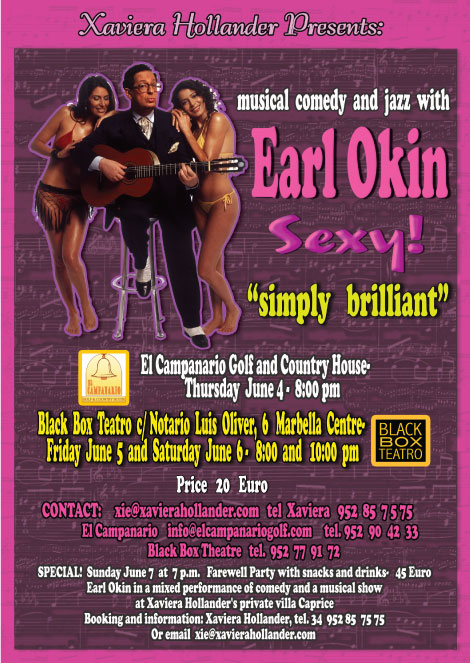 XAVIERA HOLLANDER – WORLD RENOWNED AS 'THE HAPPY HOOKER' PRESENTS HER LATEST THEATRICAL CREATION:
EARL OKIN, MUSICAL GENIUS AND SEX SYMBOL AND DUKE, GEORGE, COLE, HOAGY, TIM AND FRIENDS……
SHOW ONE: EARL OKIN, MUSICAL GENIOUS AND SEX SYMBOL

Songwriter, Jazz and Bossa Nova singer and headline comedy cabaret concert artiste, there is nobody remotely like Earl Okin. He has performed everywhere from the Royal Albert and Royal Festival Halls to The Palladium and Wembley Arena in London, to The Apollo Theatre and Birdland in New York. Earl has worked with everyone from Benny Carter to Paul McCartney and counts among his friends Billy Connolly and Sacha Baron Cohen. Here in Spain, he offers two shows, demonstrating both sides of his talent...

Earl's comedy 'Musical Genius and Sex Symbol' is witty and sophisticated and he has performed more comedy shows at the Edinburgh Festival than anyone else has ever done. He was described by one critic as a cross between Victor Borge and Harry Connick Jr. Truth to tell, Earl's humour is quite unique...there's nobody like him at all...

So come along and find out why he IS an international sex-symbol and musical genius, with lots of surprises along the way

Thursday June 4th – 8pm.
El Campanario
Golf and Country House
Urb. La Campanario;
Ctra Cadiz No 340 km 168
Booking: 952 90 42 33
This email address is being protected from spambots. You need JavaScript enabled to view it.
PRICE Euro 20

Friday June 5th – 8pm
Saturday June 6th - 8pm
Black Box Theatre. Calle Notario Luis Oliver 6, Marbella Centre
Booking: Xaviera 952 857575
Or Black Box Theatre 952 779172
PRICE Euro 20
SHOW TWO: DUKE, GEORGE, COLE, HOAGY, TOM and friends...

Whereas Earl's initial theatrical genius is based on exactly that; Theatre, this production however exudes his others talents; humour, jazz and his performance as a musical and song-writing performer.

In a nutshell, 'Duke, George, Cole, Hoagy, Tom and friends…' will blow the minds of many, as they listen to Earl's renditions of the finest and most loved performers of our time. It is quite plainly an unmissable and eye-opening show.

Earl will explain how some of the best songwriters worked and give at least one example of how NOT to write songs! He is a great musician and showman. It had been a long time, since I witnessed an artist win a crowd's favours in two minutes. This happened at the North Sea Jazz Festival in The Hague. His music? You have to find this out for yourself. He sings with a beautiful voice, perfect for the Brazilian/Jobim type of Bossa Nova songs he does. He plays guitar and piano.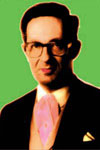 A real treat is his 'voice trumpet': he can make those fantastic sounds that helped make the Mills Brothers famous. Earl's inspiration here is clearly the early Ellington horns. He can do an astonishing Whetsol. But he also did a brief Cootie, Brown and Bigard.

Friday 5th June - 10pm
Saturday 6th June – 10pm
Black Box Theatre – 9527791722
Xaviera – 952 857575
PRICE EURO 20
SURPRISE - - - - -
Sunday June 7 at 7 p.m.
FAREWELL GARDEN PARTY WITH FOOD AND DRINKS AND EARL OKIN doing a mixed show of Comedy and Music at
Xaviera Hollander's private
villa Caprice
184 Calle Pizarra, Rocio de Nagueles
Price per person euro 45
Booking and information 952857575
Email: This email address is being protected from spambots. You need JavaScript enabled to view it.
Now if that is not enough to quench the thirst of those Theatre/thespian and music lovers along the coast, there is yet another treat in store; that being her award winning documentary go to page >>

Sholom-Aleichem - Now You're Talking!
Xaviera Presents: Sholom-Aleichem - Now You're Talking by Saul Reichlin

TICKETS ARE SELLING RAPIDLY... make sure to make your reservation in time!!

The dinner show for Friday Jan 15th is totally sold out, but we are doing another EXTRA dinner show for Sunday January 17th for the price of euro 50 per person. This includes a divine Indonesian meal, the show and two drinks.
Book quickly as there is limited seating left.


A unique one- man dramatisation of the poignant, hilarious, classic stories from the creator of the beloved Fiddler on the Roof. For the festive season, life affirming and timeless, this superb presentation is abundant in the wisdom and humour of the shtetl.

In his celebrated telling of these funny, touching, forever optimistic tales of yesterday, Saul entices us back to what one critic referred to as a 'lost world of poverty, foolishness, misfortune, and the love of life'. Award winning British actor Saul Reichlin's first show, Now You're Talking! totally sold out its London UK Premiere, and has since toured 35 cities in 7 countries, including Off Broadway.
We are sure no-one will want to miss this most special entertainment, one which resonates so strongly within the Jewish community. Saul tells us that one Rabbi actually brought 25 of his congregation to a performance of his first show, said he had not laughed so much in 25 years, and insisted on being photographed with Saul on stage afterwards!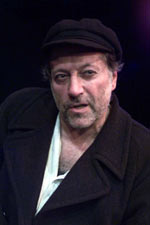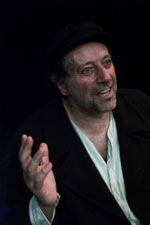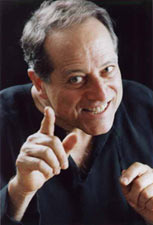 Poignant Humorous Touching
"inspirational... a brilliant and flawless performance... The most exciting Jewish storytelling in the world!" Edinburgh Jewish Telegraph

"To watch Saul Reichlin create dozens of different characters in the detailed oration of ten stories is a visual wonder for both children and adults, and a master class in oral storytelling for actors…"
Show Business New York
"Reichlin is a veritable force of nature ... loving, entertaining ... it is most infectious."
Chris Jones Chicago Tribune june 2004

"Electrifying ... a fabulous talent... world class show... take your entire family..."
Tom Williams

"Reichlin brings Aleichem to blessed life... rich with Yiddish survivor humor and magic realism."
Lawrence Bommer Chicago Reader
Presented for your entertainment
at Xaviera Hollander's cozy Home Theater Caprice:
Calle Pizarra 184, Rocio de Nagueles, Marbella:
* THURSDAY January 14, 9 p.m. Price €25 pp
* FRIDAY January 15, 8:30 p.m. SPECIAL DINNER SHOW Price €50 pp SOLD OUT
Before the show, enjoy a tasty meal prepared by Xaviera's husband and Chef Philip
* SATURDAY January 16, 9 p.m. Price €25 pp
* SUNDAY January 17, 9 p.m. Price €25 pp or €50 EXTRA DINNER SHOW
Before the show, enjoy a tasty meal prepared by Xaviera's husband and Chef Philip

***Two free drinks are included in the price of each show!***

For tickets and direction contact Xaviera at:
Home: 952857575
Mobile: 635011111
Email: This email address is being protected from spambots. You need JavaScript enabled to view it.
Directions to Theatre Caprice

View Theatre Villa Caprice in a larger map
SPECIAL OFFER BED AND BREAKFAST AT THE VILLA CAPRICE

If you are coming from outside Marbella and wish to spend the night
at our villa after the show, we offer one night at our Bed and
Breakfast including the entrance ticket and two drinks for euro
100 per night per person.

If you come for the dinner show the same offer stands and then our
price for the Bed and Breakfast is euro 125 per night per person.
Westerbork Serenade
XAVIERA HOLLANDER PRESENTS:
David Natale
The Westerbork Serenade
A ONE-MAN SHOW WITH A CAST OF THOUSANDS
American actor and playwright, David Natale brings home a seldom-remembered story of the Holocaust in Holland with his award winning oneman show: The Westerbork Serenade. Because of anxiety over increased immigration, in 1939 the Dutch government set up a camp near the town of Westerbork to hold the stream of Jewish refugees fleeing Nazi Germany. After 1940, the Nazis turned Lager Westerbork into a transitcamp which funneled more than100,000 Jews to their doom in the eastern camps.
Westerbork Serenade - opening 7 minutes from Izzy Abrahami and Erga Netz on Vimeo.
Westerbork was not a death camp. It was crowded and food scarce, but one could survive there. Westerbork even had a hospital, schools and a shop offering goods previously looted from the Jews. The German speaking Jewish inmates ran the administration of the camp. The SS commandant's pet project was a weekly cabaret show at Westerbork. It featured top Jewish entertainers from Germany and Holland. If one was in the show, one was "exempt" from transport- temporarily. By the end of the war, however, most of the performers from Westerbork were also sent to their deaths in eastern camps, joining the eventual six million who died.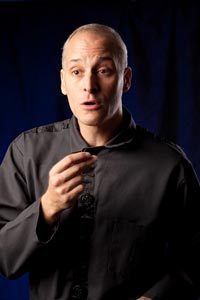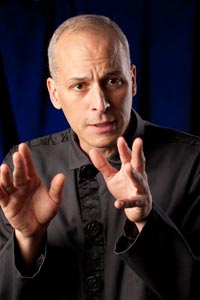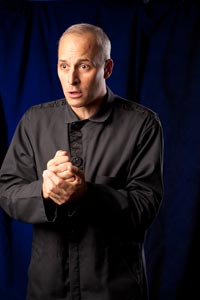 Mr. Natale seamlessly portrays more than 15 characters; including German director, Max Ehrlich, actress Camilla Spira, Commandant Gemmeker and the beloved Dutch singing duo, Johnny and Jones. Natale developed The Westerbork Serenade after much research as well as interviews with survivors. In English, he dynamically incorporates period sketches, songs and accounts to make the audience acutely feel what it is to perform for one's life.
REVIEWS:
Natale conveys with economy and depth a gripping, true life story and the people caught up in it...he is actor enough to carry it alone.
Misha Berson, Seattle Times
Natale is an extremely versatile performer... With its jaunty song and dance numbers, gleaned from the Westerbork repertoire, Natale's show is particularly unnerving.
Joe Adcock, Seattle Post - Intelligencer
The Westerbork Serenade is not only... a Holocaust story about Jews and Nazis, but a cautionary tale on the destructiveness of prejudice and racism.
Peter A. Klein, JT News, Seattle
Press reviews Netherlands:
Preview in Dutch newspaper Trouw , Parool and an extensive preview in Time Out Amsterdam and De Happy Hooker is nu Happy Hostess Parool, 16 november 2010
WHAT THE AUDIENCES SAY:
"Great script, written by the performer. Natale has amazing prowess. Very powerful!"
"Tremendous acting and tough material very well done."
"Wij waren behoorlijk erg onder de indruk van deze fantastische voorstelling....Bedankt voor 'n indrukwekkende avond."
ABOUT DAVID NATALE: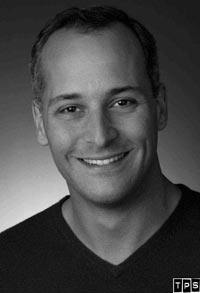 David Natale began acting at the Cleveland Playhouse at age ten. He has a BA in Theatre Studies from Yale and an MFA in Acting from the Old Globe in San Diego. David has been seen on Guiding Light, Law and Order and Sex and The City; as well as films: Zoolander, Company Man and People I Know. Some other historical characters Mr. Natale has recently portrayed are: John Lennon in the 2006 world premiere of Just Like Starting Over at Seattle Public Theater and Eugene V. Debs in Howard Zinn's, Voices of a People's History of the United States. David Natale lives and works in Seattle, Washington.
Shows Amsterdam: Price €25
New Liberal Jewish centre - Saturday November 13th: 20h00
Zuidelijke Wandelweg 41
Reservation: This email address is being protected from spambots. You need JavaScript enabled to view it. or call 020-5400120 or 020-540 01 121
Apollo First Theater - Friday November 19th: 20h30
Apollolaan 123
Reservation call: 020 6797971, http://theater.apollofirst.nl

Ostadetheater - Sunday November 21st & 28th: 20h30
Van Ostadestraat 233d
reservations: www.ostadetheater.nl (with e-mail confirmation)
telephone: 020 6795096 (answering machine)
Shows Den Haag: Price €25
Pepijn Theater - Monday November 29th 20h30
Nieuwe Schoolstraat 21/23
Reservation call: (0900) 410 41 04, www.theater-pepijn.nl

For information or booking of all shows contact Xaviera
email: This email address is being protected from spambots. You need JavaScript enabled to view it.
Or call Xaviera at 020 6733934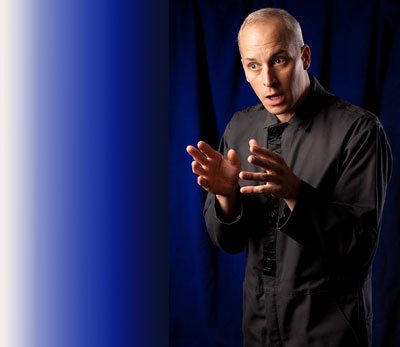 Download English press-release or Nederlands persbericht
High resolution 300 dpi photo's:
Stadionweg 17, Amsterdam, Noord Holland - 1077RV, The Netherlands