Wicked Winter Cabaret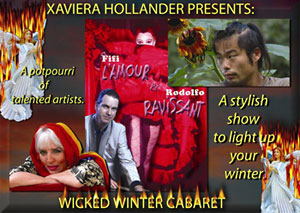 Xaviera Hollander presents:
WICKED WINTER CABARET
A potpourri of talented artists.
A stylish show to lighten up your winter
FIFI & RODOLFO
pluck your heart strings, get your feet tapping,
and have you roaring with laughter.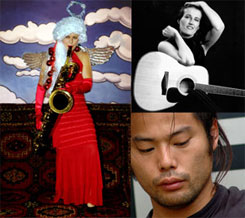 WILD & SAXY
on guitar and saxophone sing and swing the craziest Xmas evergreens, with new lyrics and modern grooves & naughty songs from the Fifties.
CLASSIC SM
a classical repertoire of wicked interpretations. Never have notes and whips had such a delightful ring.
KENZO KUSUDA
On Xmas Eve : special guest Kenzo from Tokyo at THE ARENA!
Multi talented contemporary dancer. Absolutely breathtaking and poetical.

The evening will be more than gezellig:
IT WILL BE GREAT!!
Come and experience this sparkling variety show!
Xaviera Hollander presenteert:
A WICKED WINTER CABARET
Voor U treden op:
Een potpourri van verschillende getalenteerde artiesten.
FIFI L'AMOUR & RODOLFO RAVISSANT
met een ontroerende, sexy en vrolijke show die uw ziel zal beroeren, uw voeten laat dansen en uw hart doet lachen, de extravagante kostuums en enthousiaste muziek zijn een lust voor oog en oor.
Miek Miek WILD & Felixa SAXY
brengen met sax en gitaar een muzikale parade vol nieuwe en bizarre Kerstliedjes. Hun ondeugende teksten en stoute liedjes uit de jaren vijftig maken deze avond een onvergetelijk gebeuren.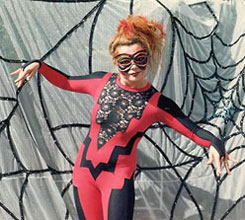 CLASSIC SM
biedt een mélange van klassiek repertoire met hun eigen bijzonder ondeugende en grappige interpretatie door Charlotte Beukers ( sopraan) en Margreet (mezzo sopraan) op de piano begeleid door Piet van de Broek.

Op Kerstavond heeft Xaviera als Speciale Gast: in Hotel ARENA : KENZO KUSUDA uit Japan. Het werk van deze adembenemende danser/choreograaf munt uit in een poëtische sensitiviteit .
My Mother's Soup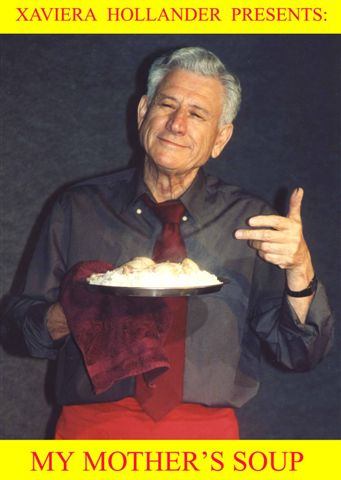 Xaviera Hollander presents:
MY MOTHER'S SOUP
by Nessim Zohar

It is worth going to see Nessim Zohar's production. My Mother's Soup is as full-bodied, flavorsome and exotically enticing as the molocheya soup Tel Aviv's famous writer/performer Nessim Zohar prepares during the show and is truly a treat for all the senses.As you enter the auditorium the smells of the middle east assault you, wetting the appetite and transporting you immediately to Alexandria in Egypt, where the plot unfolds.

Based around the author's life, this is an enchanting, moving, suspenseful and hilarious production. Memories of his childhood in Alexandria are summoned up and invested with almost idyllic overtones. As he stirs up the secret ingredients of his Molocheya, Zohar leads us on the journey of a young man trying to fight for the love of a mother he adored and hated at the same time.

Witness his secret spites and petty grudges, his terrible innermost secrets and above all, his enduring love and awe for his mother, the woman who fed his heart, mind and soul until the very day she died, reaching for an unreturned hug from her hospital bed. In a bid to ease his terrible guilt and reach some kind of reconciliation with his dead mother, the son prepares her favorite dish, Molocheya, on the anniversary of her death. It will be the first time he has tasted the dish in 50 years, having avoided its consumption out of sheer spite and bitterness since his early boyhood.

Like the soup, Zohar brings his audience slowly to the boil with a tremendously inspired performance that is as professional as anything you will ever see on stage. You will be hooked from the moment you enter until the moment you leave and although you are all eager to go out to the bar for a taste of the famous Molechaya soup, a little part of you wants to call "more , more".

You will no doubt say with your hand on your heart and a spoon in your mouth, this truly is the tastiest treat you will ever get at any of Xaviera Hollander's productions
Nessim Zohar - Playwright and performer:
Nessim Zohar was born in Egypt and immigrated to Israel in 1950. He started his acting career with the Haifa repertory company. Receiving a grant for most promising young actor, he lived for some years in New York where he attended the H.B. Professional acting workshop and studied filmmaking at the N.Y.U.

During his long career he played leads and major roles in all the repertory theaters in Israel, appeared on television radio and films. He has written scripts for film and theater and published a collection of short stories. "My Mother's Soup" is the third one-man show he has written and produced.
Nathan Datner - Director:
Nathan Datner was born in Ramat Gan, and has for the past 25 years starred in all major companies off Israeli Theater. His directing career includes " Sweet Charity", "Guys and Dolls", for acting studios,"Snapshots of a marriage" at Habima National theater, which he also translated and adapted. The musicals "Aladin" and "Cinderella", he directed for independent producers and lately the Israeli rock opera "Dorian Grey" for the Prague opera house.

This performance is sponsored
by El Al Airlines
Xaviera Hollander presenteert:
MY MOTHER'S SOUP
door Nessim Zohar
Beslist de moeite waard is deze productie van Nessim Zohar. 'My Mother's Soup' is net zo rijk gevuld en smakelijk als de Molocheya soep die deze bekende schrijver en acteur uit Tel Aviv in zijn show bereidt. Al bij binnenkomst komen de exotische geuren van het Midden Oost je tegemoet,die je onmiddellijk naar Alexandria in Egypte vervoeren.

Gebaseerd op Nessim Zohar's levensverhaal is dit een betoverende, ontroerende, spannende en humoristische one man show; met herinneringen aan zijn bijna idyllische kindertijd in Alexandria. Terwijl hij op het podium de geheime ingrediënten door zijn Molocheya roert, beroert hij onze harten met het verhaal van de jonge Zohar die vecht voor de liefde van zijn moeder waar hij dol op is en die hij tevens haat. Wees getuige van zijn geheime wrok en zijn kleingeestige afgunst, zijn diepste geheimen maar bovenal zijn trouwe liefde en het diepe ontzag voor zijn afstandelijke moeder.

Tot op haar doodsbed voedt zij zijn hart, geest en ziel maar hunkert hij naar een echte moederlijke knuffel. In een poging van zijn schuldcomplex af te komen en tot een vergelijk met zijn overleden moeder te komen bereidt de zoon haar favoriete maaltijd molocheya op de verjaardag van haar sterfdag. Het zal de eerste keer zijn in vijftig jaar dat hij dit gerecht weer proeft want uit pure wrok en bitterheid heeft hij sinds zijn vroege jeugd deze soep geweigerd te eten.

Net als Molocheya weet hij het publiek op fenomenale en inspirerende wijze tot kookhoogte te brengen. Vanaf het moment dat u de geuren ruikt van de soep die Nessim bereidt en de acteur in actie ziet bent u 'hooked' aan deze fascinerende en onvergetelijke voorstelling.

Neem een kleenex mee voor de tranen die u zult plengen vanwege het lachen en huilen.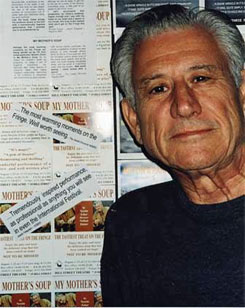 Chicken - teenage gigolo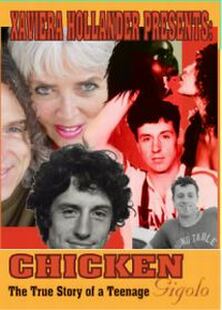 Xaviera Hollander presents:
CHICKEN - the true story of a teenage gigolo
Written & Performed by David Henry Sterry # 1 Play in America

This is the true story of a 17 year-old All-American boy who gets seduced into the sex business. With 70's music playing in the background, Sterry portrays everyone from his nun/teacher to his employment counselor/pimp, his sweet girlfriend to the man who took advantage of him, his naïve, but charming 17 year-old self to the love-hungry ladies who hired him. Breathtakingly honest, heartbreakingly poignant, surprisingly funny. This is theater that is raw, smart, and universal.

As an appetizer THE GALLERY DONKERSLOOT AND XAVIERA HOLLANDER offer an erotic "Extravaganza fashion show" with Mira Bachvarova and her friends. http://www.gallerydonkersloot.nl
DAVID HENRY STERRY
www.davidhenrysterry.com

David Henry Sterry is both writer of and performer in the one-man show Chicken, based on his San Francisco Chronicle bestselling memoir Chicken: Self-Portrait of a Young Man . He is also the author of Satchel Sez: the Wit Wisdom & World of Leroy "Satchel" Paige (Crown, Random House, 2001). His next book will be Putting Your Passion into Print (Workman Press, 2004). Two of his stories are featured in 5 Minute Erotica (Running Press, 2003). He has written for, among others, The London Times, Penthouse, The Hairy Orangutan, The Scotsman, and The SF Chronicle.

He started as a stand-up comedian in SF, performing with everyone from Robin Williams to Milton Berle. As an actor he has worked everywhere from Lincoln Center to the Magic Theater, with everyone from Will Smith to Michael Caine, David Letterman, to Zippy the Chimp.

He has been a TV pitchman for AT&T, Levis, and Isuzu, performed in over 500 commercials, winning 4 Clios. He starred in CTW/HBOís Emmy Award-winning Encyclopedia, and was the emcee at Chippendale's Male Strip Club in New York, winning Cabaret Performer of the Year.

His plays have been performed at PS 122, the West Bank Café, and the Duplex. He has written screenplays for Disney, Fox, and Nickelodeon Pictures. He has worked as a chicken, a chicken frier, a paperboy, a soda jerk, a cherry picker, a poet, a building inspector, a limo driver, a baby sitter, a barker, a women ís soccer coach, and a marriage counselor. He graduated from Reed College, and loves his wife, his cat, and any sport involving a ball. David Henry Sterry has been featured in (among others): The New York Times, The London Times, The Sunday Times, Sunday Independent, The Los Angeles Times, The Guardian, The Washington Post, New York Magazine, Elle Magazine, Details Magazine, CBS 48 Hours, NBC The Other Half, BBC Radio, BBC Scotland and Newcastle, and NPR Morning Edition,Weekend Edition, and Talk of the Nation. He recently completed a twenty-five city international tour of Chicken.

The book is being optioned to be made into a film. It was published in the UK in April, 2003, and is coming out in Dutch, German, Croatian, and Spanish. The show, at the Assembly Rooms of the Edinburgh Fringe Festival in August, 2003, was named the Number 1 play in Great Britain by The Independent.

Because of his life on the streets, he now volunteers doing outreach with homeless kids on the streets of San Francisco, and running writing workshops with people from the sex industry. In July, 2003, he was a speaker, and ran a writing workshop at the "Breaking the Silence" Youth Summit in Washington, hosted by the Department of Justice, GEMS and the US Campaign against the Commercial Exploitation of Children, 17-22 year old survivors from all over the country gathered to try and change the world.
CRITICS ABOUT CHICKEN
"A tour-de force."
SF Bay Times
***
"Sextacular." -
Beth Lisick, SF Gate
***
"Frank, funny and surreal."
The Stage
***
"Pick of the week" "Hysterical."
The Guardian
***
"Hard-hitting and universal."
Time Out San Francisco
***
"Irresistible, very enjoyable." "radiates honesty. Funny, physical, and fast"
The Scotsman
***
#1 Play in Great Britain.
-The Independent
***
"Poignant". " a rare pleasure." "moving and original." " revealingly honest." Sterry is a sharp comic, using his limber body and versatile voice to create memorably portraits of the hungry, lonely, wealthy women who employ his services." "Sterry needs no other prop than a wooden bench to get full mileage out of the ludicrousness of sex. But what gives it depth is the hard, sad reality beneath its Rabelaisian humor." "Richly entertaining and thought-provoking." "Speaks cleverly and provocatively to anyone who's ever been or had a child."
Robert Hurwitt, Head Theater Critic to The San Francisco Chronicle
***
"Packed full of energy, the show is fast, provocative, and highly engaging." Jumping to the beat of his poetic script, the dialogue leads David around every square inch of the stage. It is simply unmissable"
The Herald
***
"What a rare pleasure it is to see a writer perform his own work . Dream-like profundity. "Sterry's portrayal of his 17-year-old self is immediately honest and believable." "Juxtaposed with his masterful control of poetic dialogue balances the show."
SF Examiner
***
"On an almost empty stage [Sterry] summons up in glorious technicolour an amazing array of characters." "Extraordinary engrossing and touching." "A a great story . It is a must!"
Daily Mail
***
"Graced with insight and empathy, Sterry finds a literary rhythm as fluid and alluring as the strut of his nuthugging elephantbells " a sense of humor as bright and ridiculous as a blood-engorged wangdangdoodle- hammer."
S F Weekly
***
"Hugely compelling to watch , real skill." "The story is told in deft snippets." "the language is poetic, and a 1970s soundtrack gets the audience in the mood."[a] triumphant story. It ís clear that this is a comedy hiding in a tragedy."
The Independent
***
CHICKEN: THE BOOK
"Sterry writes with comic brio [he] honed a vibrant outrageous writing style and turned out this studiously wild souvenir of a checkered past." ? Janet Maslin, New York Times
***
"A compelling work." Steve Jelbert, London Times
***
"A beautiful book. a real work of literature. Wonderfully written." Vanessa Feltz, BBC
***
"Priceless material" Details Magazine
***
"Humorous and charming" Outrageous and entertaining." Michael Williams, BBC 1
***
"A breezy read, pleasingly free of self-pityÖ very funny." The Observer
***
"Jawdropping. A carefully crafted piece of work. Benedicte Page, Book News, UK
***
"A 1-night read. Should be mandatory reading for parents and kids." Bert Lee, Talk of the Town
***
"Few rites-of-passage tales can match up to this one." The Scotsman
***
"Hilarious." The Guardian (London)
***
"Alternately sexy and terrifying Chicken is a hot walk on the wild side of Hollywood's fleshy underbelly.A coming-of-age classic that ís colorful, riveting, and strangely beautiful. David Henry Sterry is the real thing." ?
Jerry Stahl, author of Permanent Midnight
***
"A standup comic's sensibility, tone and timing. I read the book from cover to cover in one night, unable to put it down."
Eliza Thomas, Places Magazine
***
"Farcical, sad, perceptive." Reality porn for the sophisticated reader."
The Sunday Herald
***
"Chicken is both funny and disturbing." RTE TV Ireland
***
"Compulsively readable and very funny. Rarely has the mentality of sex been so scrupulously observed and reproduced. Sterry clearly possesses the storyteller's art." Phillip Lopate, author of Portrait of My Body
***
"Impossible to put down. A fast-paced jazzy writing style. A great read." Hallmemoirs
***
"Full of truth, horror, and riotous humor." The Latest Books
***
"Filled with wit. expertly told escapades. A really good,enlightening, read." Leeds Guide
***
Stadionweg 17, Amsterdam, Noord Holland - 1077RV, The Netherlands